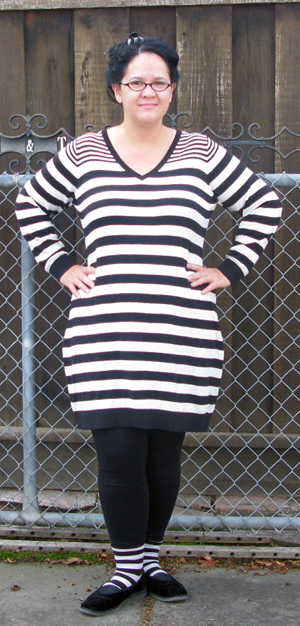 CorpGoth sans makeup!
My current job allows me to
work from home
even more than before -- tho' let's get real, I can write & edit from just about anywhere in the world, I don't need to physically be in the same office with my coworkers. Also, so often, I'm working with people who are spread out around the U.S., if not the world, so it doesn't matter where I'm sitting. That's life in the Internet Age. For years, I've had a few work-from-home days, now they're just more frequent than not.
Which creates a bit of a sartorial challenge: What do I wear when I don't have to go into an office?
I've often been lazy & worn an assortment of black yoga pants, big black T-shirts, & black hoodies or baggy black sweaters, along with flip-flops or slippers, depending on the weather. Well, I want to up my game when three or more days of the week will be spent working at home. I don't want my entire wardrobe to be *that* sloppy! Besides, I occasionally converse with coworkers over Skype, so turning on the video conferencing means I should look presentable (at least from the waist up!).
So I've been strategizing about how to dress, both incorporating what I already own & judiciously adding things that fit better into my home office routine. Here's what I've realized so far...
1. Comfort counts
-- OK, I said I'm not going to work in yoga pants (or PJs) every single day, but I still want comfort because, unlike at the office, I may be throwing in a load of laundry between edits or I might have a cat in my lap while on a conference call. Structured skirts, fitted jackets, & high heels just aren't appropriate in this situation. Knit dresses, leggings, long sweaters, tunics, ponte pants, city shorts in warm weather, & layers are all great.
2. Think color & pattern, instead of accessories
-- For the office, I love scarves, statement necklaces, lipstick, & other splashes of color & texture. But not at home. To make outfits more interesting, I need to incorporate more colors (all black gets mighty dull) & more prints (stripes, plaids, florals). Can also use more texture, like ruffles & pleats, as long as it's not in an overly fussy garment (see #1).
3. Re-asses my current wardrobe, weed through, add selectively
-- Based on the first two points & knowing my new schedule, I realize I may not need quite as much of the structured, fitted clothes that I have owned. And frankly, my closet & dressers are jammed full! It's tempting to buy a ton of new stuff (& I have bought more leggings & tunics, heh), but first, I went through what I have. Things I don't love are gone, along with anything that didn't fit perfectly. Now I can look for wardrobe holes & fill them accurately.
4. Do my hair
-- I'll never be someone who wears makeup around the house, but since Skype video conferencing is a part of my home-office mix now, I should make a point of doing something with my hair. I used to pile it up on the top of my head while at home, which I can still do, but in a tidy & smoother fashion. And especially since I trimmed my hair, I might try sleeker styles.
5. Go a little more goth, but not all punked out
-- Since I don't have clients or meetings (other than from the neck up re: Skype), I can dress a little more edgy
than I might at the office
. Little touches, such as batty T-shirts & Halloween socks. But I still want to look like an adult & a professional writer, not a kid shopping at Hot Topic.
Examples of clothing that feels right for my home-office wardrobe:
Do you work from home? If so, what do you wear? Share in the comments!
Related Links:
Nine Ways Not to Look Like a Slob Even if You Don't Dress for the Office These Days
- Lisa at Privileged has some excellent tips for looking elegant yet casual (remember, sloppy clothes cost the same as neat, so why not go for neat?).
What to Wear When Working From Home
- Allie at Wardrobe Oxygen shares her buying guide (& what to avoid) for wfh wardrobe workhorses, which I pretty much agree with completely.
What Do You Wear When You Work From Home?
- Interesting thread at Offbeat Home in response to the question, lots of great opinions.