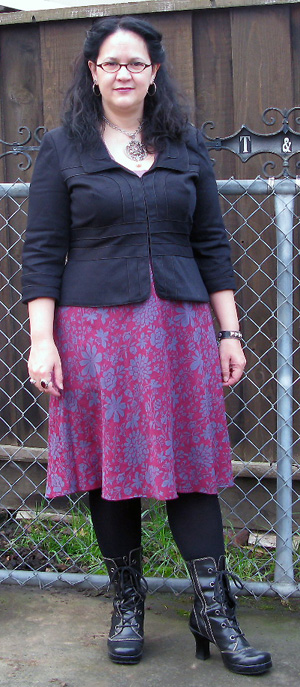 It was just one of those days ... I put on this dress & the jacket, then I looked in the mirror & realized that the dress was totally wrinkled. Omg, must iron! I couldn't go out the door (much the less take photos) with the dress all crinkled up. So I took off the jacket & dress & ironed the dress. Put it all back on & realized that the jacket was covered in cat hair. Ugh. Took off the jacket & used the lint roller on it. Put it back on. Finally done! Felt like I got undressed a million times just to get finished once.
What I'm wearing:
Purple print duro dress, April Cornell | Black piped jacket, Spiegel | Black tights, Calvin Klein | Black lace-up, spool-heel boots, Target | Silver medallion necklace, vintage Avon | Silver hoop earrings, random accessory store | Silver & faux-ruby ring, gift from Sarah
How long does it take you to get out the door in the mornings?