Right on schedule, my hair has started to come out due to chemo. It's like normal hair shedding when you brush your hair, except TONS more. So to make it it a little easier, I finally got a haircut. Also, I really wanted to save some lengths of my hair to use later to either make into historical hairpieces or rats (don't laugh, real hair makes the best, most expensive wigs & pieces! it's a hot commodity :).
I expect the rest of my hair will fall out in the next week or so. It's going pretty fast now. My second (of four) chemo treatments is in a week, & that will surely kill the rest of the hair. I'm not finding it particularly traumatic, but it does look kind of creepy & weird to see so much of my own hair coming out so fast, all at once. It's definitely not normal. I may get tired of the shedding & just shave it off like a lot of women do.
My energy levels are unfortunately quite shot. I can't use the computer for very long in one sitting, so I made the tough decision to stop working during chemo. No more office fashions for a couple months, but I'll keep posting when I can.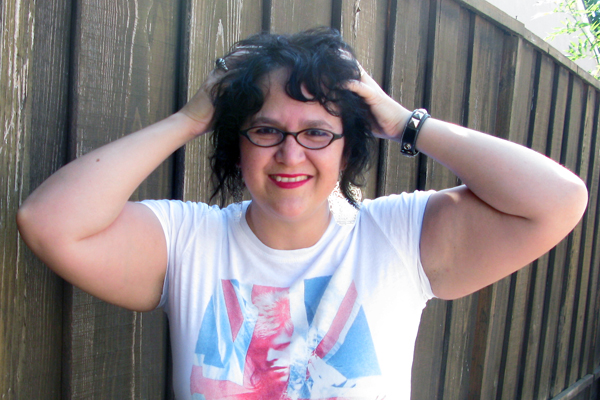 What I'm wearing:
White David Bowie T-shirt, Hot Topic
Silver Dia de los Meurtos skull earrings, Torrid
Makeup Forever red lipstick
Benefit Bad Girl black eyeliner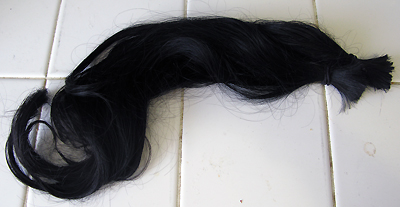 what was cut off!