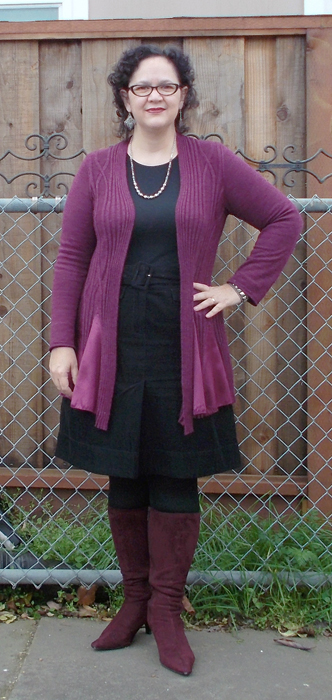 I've mentioned why I love wearing dresses so much -- they're easy! But they also fit me better. I'm short and curvy, and it's a million times simpler to find a dress or a skirt and top combo that fits my shape and looks good than it is to find pants.
People say "jeans are comfy," to which I say, bull. Only if you're certain special sizes. Jeans are never the right length for me, and the waistband usually gaps if it fits at the hip. Alterations are a huge bother (yes, I sew, but I loathe altering readymade clothing with the fire of 1,000 suns).
There is one fashiony thing I've always wished I could wear though -- jeans tucked into boots. It looks so cool, so chic! It would be goth-able in a Victorian riding habit kind of way, a little steampunk, a little casual-goth, with black jeans, tall black boots, and a nipped-waist velvet or military-style jacket.
But I can't because of the size issue. Not just the jeans, but worse: There seemingly does not exist the combination of tall leather boots wide enough and skinny jeans skinny enough to make that combo work on me. I love the look, but it will never ever fit on my legs unless I have my legs amputated and get chicken-leg prosthetics. Even at my lowest recorded weight, I had huge calves (of course, to get to my lowest weight, I had to run 10k around my neighborhood regularly, which meant bulging leg muscles). So no jeans tucked into boots for me. EVER. Oh well.
My boots always have to be worn with tights and skirts or dresses, not jeans, not even leggings.
Are there any fashion frustrations you deal with, major or minor?
What I'm wearing:
Burgundy peplum sweater, Anthropologie | Black T-shirt, Old Navy | Black corduroy skirt, H&M | Black tights, Calvin Klein | Burgundy boots, DSW | Burgundy & grey pearls, Salamanca Designs | Silver & purple dangly earrings, gift from Lisa