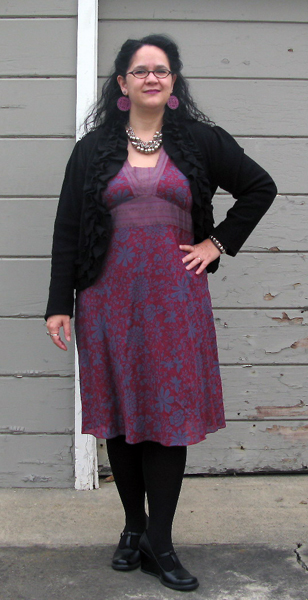 Didn't mean to take a week off, but best laid plans & all that. The big issue is that I'm in between steady carpools right now, so last week, I had to work from home mostly. And the two times I did go into the office, I wore repeat outfits -- particularly because I was so busy with
Earth Day content
. Hopefully soon, things will settle down here...
What I'm wearing:
Maroon & purple cotton-print dress, April Cornell
Black wool ruffled bolero sweater, Kohl's
Black tights, Calvin Klein
Black T-strap wedges, Kenneth Cole (thrifted)
Chunky silver bead necklace, Target
Large pink filigree earrings,
Blackbird Jewels on Etsy
, won in a giveaway from
Miss Vinyl Ahoy
How do you get to work? Is it an easy commute or complicated? Share your tales of woe so we can commiserate!