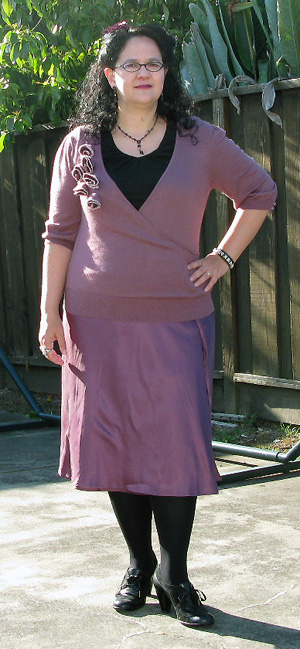 I've been slowly working new-to-me clothes into my wardrobe in the past couple weeks, because I received a bunch of fabulous garments from a dear friend. Lisa was moving across the country & clearing out her closet, so she gifted me with a surprise selection from her wardrobe.
Now, I knew she has excellent taste & that we shop at many of the same places in person & online. But I was utterly gob-smacked when I opened the box (actually, two boxes) to reveal item after item that was so perfectly right for me, plus fit me just about ideally. There were sweaters, jackets, skirts, & dresses in superb CorpGoth style, & the only reason I'm not wearing more of them is due to summer warmth.
I do feel incredibly lucky to know such a generous & thoughtful friend. I'll just have to figure out some way to repay her in kind...
What I'm wearing:
Amethyst short-sleeve wrap sweater with flowers, LaRedoute
Black T-shirt, Target
Amethyst satin bias-cut skirt, Newport News
Black tights, Calvin Klein
Black ribbon-tie pumps, Clarks
Purple crystal lariat necklace & matching earrings, random accessory store
Do you swap, trade, or barter clothes with friends? I love to, even with friends online. That's how I get some of my best stuff :-)