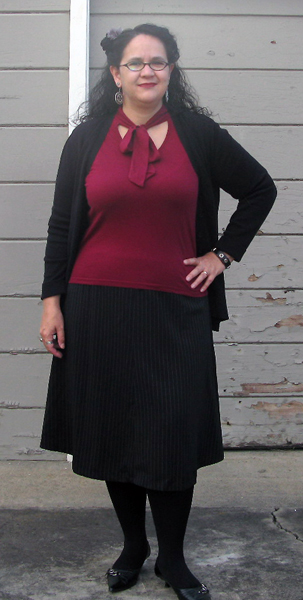 I wasn't sure if I could really do Sophistique Noir's Red & Black Week. Didn't think I had much in the way of red clothing, & if I did, it would just be red top + black skirt, which is kind of boring for a whole week. Especially when I actually do need to be in the office all of this week (thus, 4 outfits, eeek!).
But then I thought about accessories & started imagining ways to creatively interpret the challenge. Ok, well then, maybe this is something I could get on board with. We shall see...
What I'm wearing:
Red knit top with self bow-tie neck, Target
Black pinstripe A-line skirt, gift from Lisa
Black boyfriend cardigan, Chadwicks
Black tights, Calvin Klein
Black pumps with tiny buckles, Payless Shoe Source
Large silver disk earrings, Forever 21
Black & grey flower pins in hair, random accessory store
Red-brown lipstick, Lorac
I thought I'd like this outfit better. But I felt it was kind of frumpy by mid-morning. Also didn't realize how much glare I got in these photos. Better luck tomorrow...