costume site
as, "We're all born naked, everything else is a costume." Same concept, meaning that clothes are an act of making up who we are, pretending to be something, mask making, presenting a carefully constructed face to the world. I think goths understand this idea intrinsically.
While that's my favorite RuPaul quote, I do love this T-shirt my sweetie got me for Christmas. The gold foil makes it very glam, & who doesn't need that?
What I'm wearing:
"Shantay, You Stay / Sashay Away"
RuPaul's Drag Race
T-shirt, gift from my husband
Black linen skirt, H&M
Black elastic belt, NY & Company
Black leggings with lace side panel, Torrid
Black socks, unknown brand
Black flats with wings, Plasticland.com
Black & gold medallion earrings, random accessory store
Silver bangles, random accessory store
Brown skull bracelet, gift from my mom
Silver Celtic knotwork ring gift from Lisa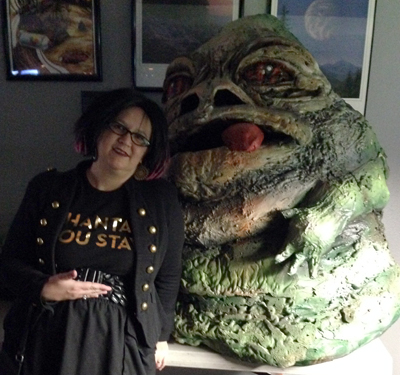 When pop culture memes collide! Jabba the Hut at a local Star Wars themed bar.