The easiest way to customize your living space, whether it's a rental apartment or your own home, is to make curtains. I describe several types of curtain projects on my
Gothic Martha Stewart
site.
Not all curtains require sewing. Get long, long lengths of cheap fabric -- muslin looks nice and is frequently 99 cents a yard (don't overlook sheets and thrift-shop fabrics too). Go super goth & use lace or tulle. Wind it around your old curtain rods, leaving long lengths at each end. Allow the fabric to 'puddle' on the floor, tucking the ends under, no hemming necessary.
This is admittedly a
decorative look
, not functional. But you could add mini-blinds or shades (which, if you have average size windows, can be cheap) or second-hand sheers.
Feeling slightly more ambitious? Try no-sew gathered curtains, made with iron-on fusible tape or fabric glue. See
full instructions
. A variation is
tab-top style curtains
. If you do sew or are just learning, both these style of curtains are great beginner's projects because they only involve straight lines & only a few seams.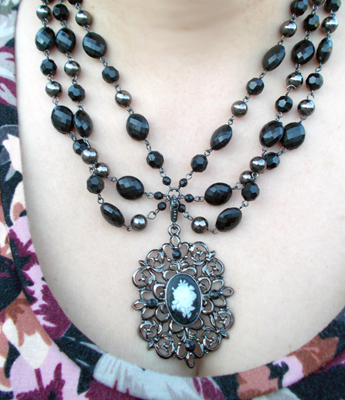 What I'm wearing:
Dark floral knit top, H&M | Black elastic belt, NY & Company | Black crochet skirt, Coldwater Creek | Black flats, Aerosoles | Black beaded cameo necklace, random accessory store | Silver cameo earrings, vintage