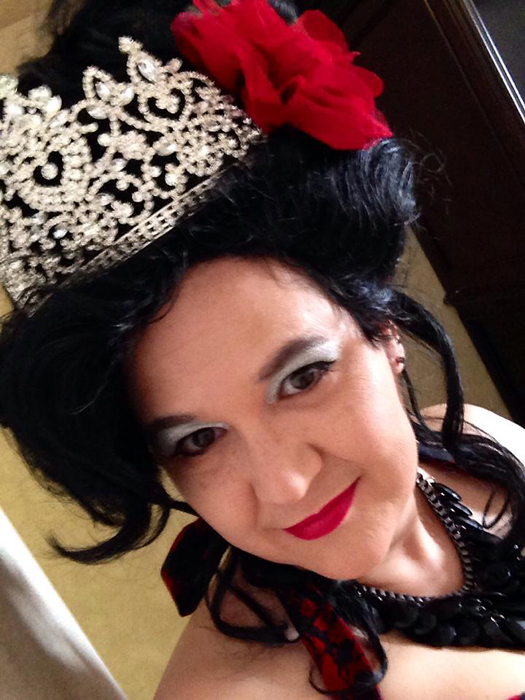 I didn't plan this as a part of Red & Black Week, but it fits! A few weeks ago, I did something kind of crazy: I went by myself to the
viewing party
for
RuPaul's Drag Race Season 6
season finale in Las Vegas, where America's Next Drag Superstar #6 was announced.
I left work early for a 2pm flight, checked in at my hotel by 4pm, changed clothes, walked across the street to the party at 5pm, stood in line for an hour to get in, then stayed at the party (standing around in high heels for another 5 hours, ouch), watched the TV show & the live drag show there, walked back across the street, grabbed a burger & a beer to take back to my room, ate a belated dinner, got to sleep by about 1am, got up & to the taxi stand by 5am for a 6am flight back, got a latte at Starbucks at the airport at home while waiting for my ride to work at 7:45am, & was back at the office by 8:30am the next morning, stashing my little roller-bag luggage under my desk. Nobody knew!
What I'm wearing:
Black & red flocked floral halter dress, bought in Camden Market, London | Black spiderweb tights, unknown brand | Black ribbon-tie pumps, Clarks | Giant drag-queen wig, eBay | Tiara, gift from my husband | Red flower hair pin, random accessory store | Black beaded necklace, random accessory store | Rhinestone & faux jet bracelets, random accessory store | Faux diamond rings, random accessory store | Black vinyl bat purse, gift from a former coworker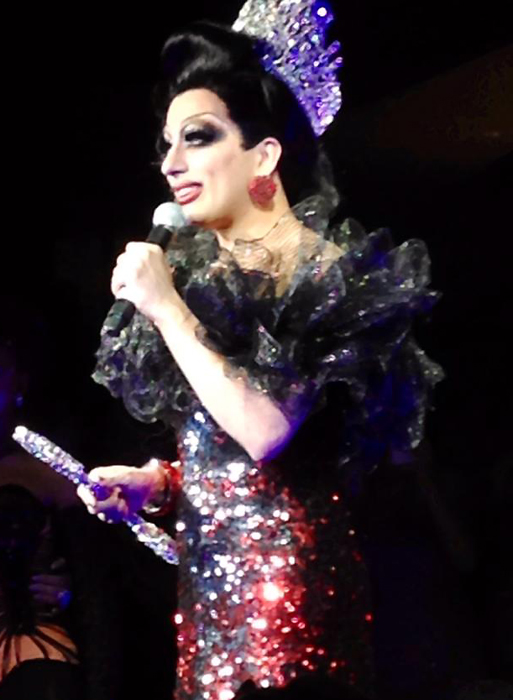 Bianca Del Rio, the winner!