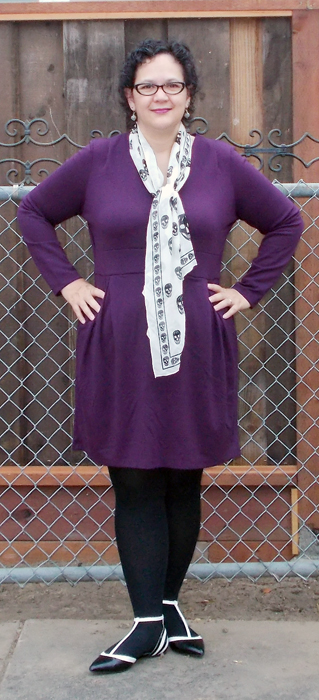 When I think of how one an incorporate a touch of goth into a corporate-friendly wardrobe, I automatically think about this skull-print scarf. Yep, that's right, skulls. Now this may seem contradictory to some of my advice like "
minimize references to death & religion
" in your outfits. But this specific style of scarf is an exception.
See, it's an interpretation of the
iconic Alexander McQueen skull-motif scarf
. Not an exact knock-off, but it's close enough to pass as "fashionable" or even "trendy" instead of "morbid" or "creepy" to mainstream eyes. If you work at an office where you have to keep your gothic style on the down-low, this sort of accessory could be a nice way to save some of your personal aesthetic while blending in just a little.
I don't have to worry too much, even though I work at a more conservative employer right now. Still, I paired the skulls with a purple dress for a little contrast.
How are you wearing skulls at the office for this report? Is your workplace OK with it?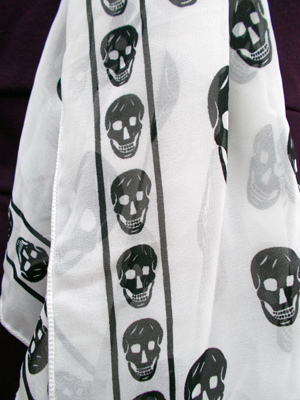 What I'm wearing:
Purple knit dress, Land's End | White & black skull scarf, Amazon.com | Black tights, Calvin Klein | Black & white T-strap flats, Zappos | Black & white stripe bead earrings, Kohl's