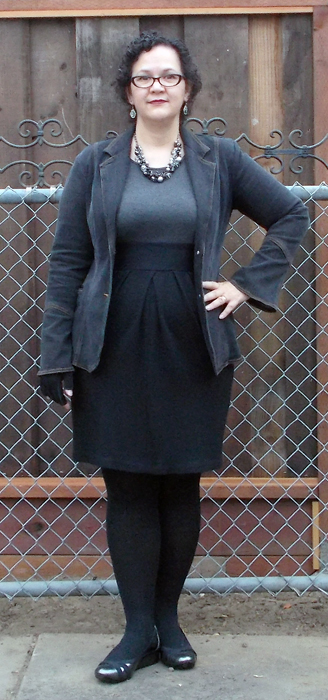 Prompt:
What is the longest you've ever waited in line?
I'm not one who does a lot of standing-in-line-on-purpose. While I love Apple products, I've never waited out in front of the Apple Store for the latest version. And I usually despise seeing movies on opening night. The lines I usually stand in are for public transit, and if it's taking a long time, that's not as planned.
But back when The Lord of the Rings movies came out, I did go to the final one, "The Return of the King," on opening night with a bunch of fiends in costume. We lined up around noon for the evening show, must have been 6 or 7pm. So I was in line for 6 or 7 hours. It was great fun, we brought snacks and played in character and were generally big geeks. Loved it!
Questions culled from the discontinued Writer's Block feature on LiveJournal.
What I'm wearing:
Dark grey denim belled-sleeve jacket, Newport News | Black & grey knit dress, Macy's | Black tights, Calvin Klein | Silver-grey wedge pumps, Anne Klein | Black & silver chunky bead necklace, random accessory store | Silver cameo earrings, vintage