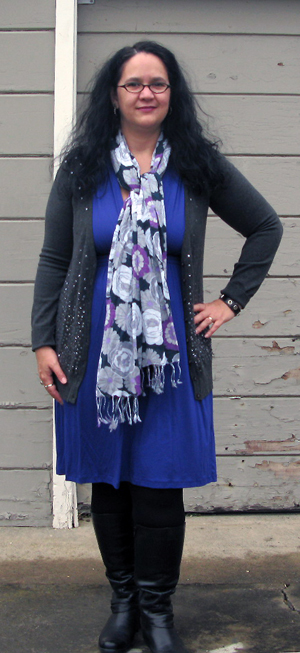 Not depressed, tho' my carpool woes continue, & I really have no idea how I'm getting to work from now on. Also, it's raining here in Silicon Valley -- I dodged sprinkles while taking these photos. But really, this is about the color blue. It's one of those colors (blue, also green) that I don't wear much. I don't have anything against it. Blue isn't like yellow, which looks weird against my already-yellowy part-Asian skin, or orange, which is just too clown-crazy for my taste. Blue is a nice, calm, respectable color.
But every time I buy a piece of blue clothing (with the exception of blue jeans, because I do rather like those), I end up not wearing it very often, & the blue garment is eventually sent off to be traded or thrifted.
Is this because my mother dressed me in more blues & greens as a child, in a 1970s attempt to be gender neutral, when I desperately wanted to be a pink-ruffles-&-frills girly-girl? She even painted my childhood bedroom a deep, nightsky blue, telling me that glow-in-the-dark stars would show up better on it. As a teenager, in the next house, I painted my room lavender purple, much more feminine, & demanded floral-print Victoran-esque bedding.
What I'm wearing today:
Blue knit dress, Ruche.com
Black knit camisole, NY & Co.
Grey cardigan with sparkles, ModCloth.com
Purple floral scarf, Old Navy
Black tights, Calvin Klein
Black boots, Clarks
Gunmetal & rhinestone hoop earrings, NY & Co.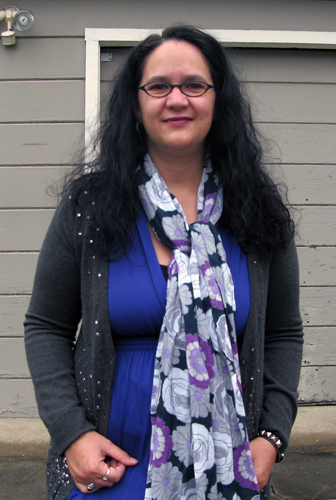 I thought this dress was more purple when I ordered it online, despite the description saying "blue." This is the second wearing, & other people like it on me. It's comfortable & flattering in the fabric & cut. We shall see if it survives the fate of other blue garments.
Are there certain colors you don't wear, even if they might look good on you?