May 6: The topic is shoes, courtesy of
ModlyChic
.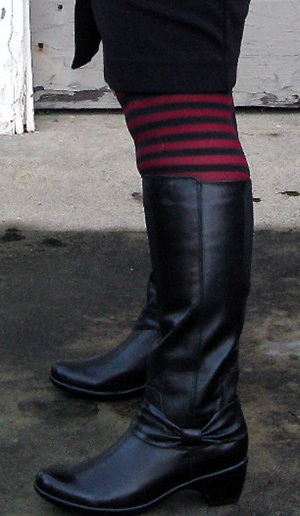 Clarks boots
1.What is your go-to pair of shoes?
In fall & winter, that has to be these Clarks boots. So comfy & stylish! The rest of the year, it just might be my Aldo T-strap flats (which, apparently, I haven't taken a closeup photo of, probably because they're so ubiquitous).
Surprising that both are flat shoes (because I do love heels), but those two shoes can go with anything in my closet other than a very fancy outfit.
2. What goes into your shoe-buying decisions?
First, style (does it turn me on? am I in love? is this a shoe that fills some hole in my wardrobe?), then price ($30/$40 is my comfort zone, but I'll double it for a shoe that makes my heart go pitter-pat, at least if it's a quality brand), then comfort & fit.
Hitting all three equally is the sweet spot, but if the shoe is really high in two of these areas, it might override the last one. For example, a very cheap shoe that is super-cute, but a little uncomfortable might come home with me, or a comfy, stylish shoe that costs a lot could too.
3. The majority of the shoes in your closet are what color?
BLACK. Color you surprised, right? Hah. I have 48 pairs of shoes (hmm... doesn't seem like much), & 11 are all or mostly a color other than black. It's not really a goth thing, it's more that I play it safe. Although of the dozen shoes in my costume closet, there are more colorful shoes, some that go with specific costumes, for example.
4. When it comes to design shoes what are your favorite brands and why?
I think the only brand I have more than two pairs of is Aldo. They have consistently great styles, the shoes are usually comfortable, I can find good prices on sale, & the shoes are of high quality.
5. If price wasn't an issue, you'd own which shoe?
Fluevogs
. Oh, yeah. I dream of owning some Fluevog boots, but they start over $200 new, & that's so far out of my normal price range, I just can't bring myself to do it. I have one pair of vintage Fluevog pumps that were given to me by a dear friend, & I love them. I wear them with fancy cocktail dresses & feel like a goddess. But new 'Vogs aren't quite in my future...