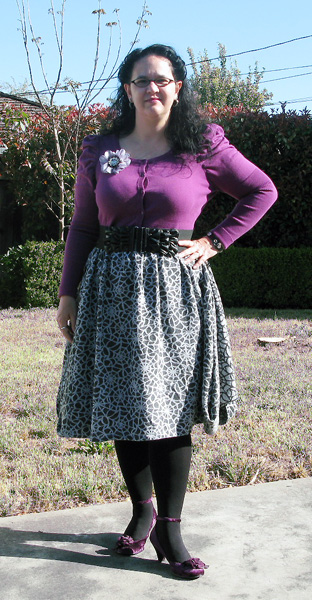 My world has been tangled & torn & not terribly fashionable of late. I've worn a lot of repeats (like
this
&
this
&
this
&
this
on Mother's Day), & I've worked from home in black yoga pants & T-shirts. The carpool is still chaotic, work itself is beating me down, & the weekends have been jam-packed. I shouldn't complain too much -- I could be out of a job or my house could be flooding, for example. But it's hard to get up the gumption to be fashionable with all the other stuff going on. Tho' I'm trying here & there...
What I'm wearing:
Fuchsia ruched-shoulder sweater, H&M
Black & white spiderweb-print skirt, made by me (first described
here
)
Black tights, Calvin Klein
Purple velvet ankle-strap pumps, Rocket Dog
Black elastic belt, NY & Co.
Grey flower hair pin worn as brooch (stuck a safety pin in the back), Icing
Gunmetal & rhinestone hoop earrings, NY & Co.
The weather can't decide if it's going to be warm & sunny or crisp & cool. I can't decide what I want to do with my days. Indecision runs rampant...
Thanks to everyone for your lovely compliments on my 16th-century costume! At least I can keep up with that era ;-)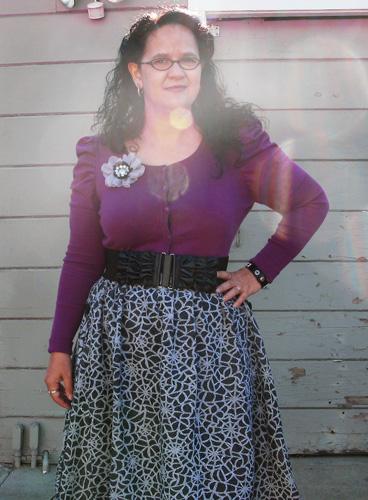 Bedeviled by sundogs, wrapped up in spiderwebs.