Just wasn't feeling it this morning. Sleep poorly (I'm a lifelong insomniac), woke up headachy. Had deadlines at work, so no choice but to suck it up & get out there. So I took a picture for the blog, even tho' this is a pretty blah outfit. It's serviceable, it's a step up from jeans & a sweater, but it's nothing to shout about from the rooftops.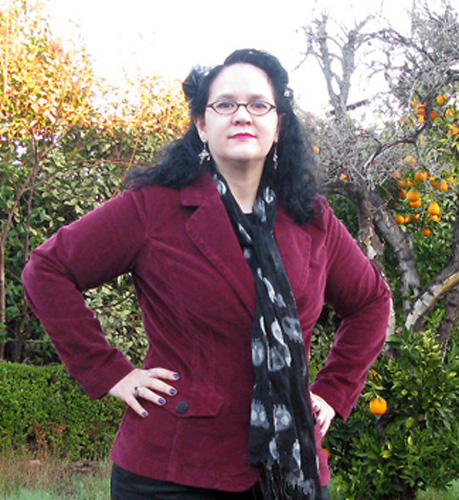 What I'm wearing:
Burgundy corduroy blazer, Kohl's (vintage black glass buttons added by me)
Black long-sleeve T-shirt, Old Navy
Black trousers, Target
Black pumps with silver buckles across the instep, Kenneth Cole
Black scarf with grey skulls, gift from my husband
Dangly glittery earrings, random accessory store
Black & grey flower hair pins, Forever 21 or maybe H&M
Dark cherry lipstick, Sephora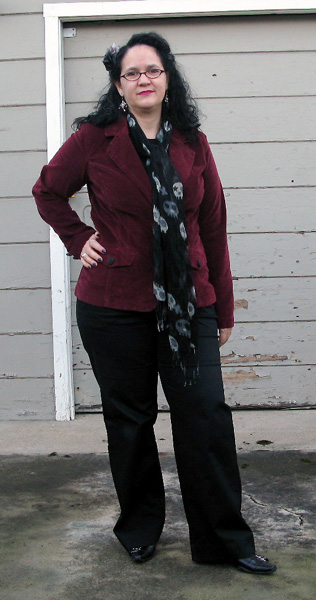 I had different outfits in my mind for today, but this was not the morning to bother with them. Didn't want to fuss with tights & a skirt, didn't want extra layers, couldn't be arsed to figure out further accessories.
I tend to fall back on an outfit with black pants & a jewel-tone top of some type (usually a sweater, but this jacket was new). It's basic & not insanely boring. But still, not much creativity (& I'm annoyed that I wore the same combo -- black bottom, burgundy top -- two days in a row! nobody notices at work, but it's obvious on a blog).
Do you have days like this? What kind of outfit do you fall back on?