New year, vacation's over, time to set the alarm & dress for work again. Ho-hum. I really do like my job, but I could do without getting up early every morning & going into the office. Too bad I can only telecommute one day a week! Then again, going into the office means I wear more than yoga pants & T-shirts ;-)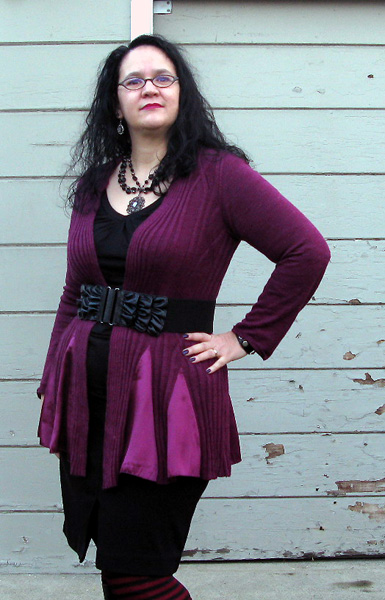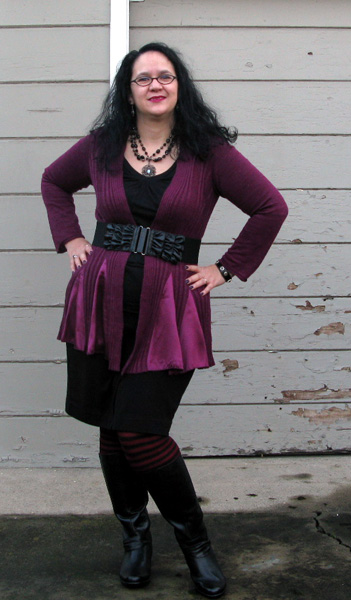 What I'm wearing:
Burgundy sweater with silk insets, Anthropologie, gift from Sarah
Black knit V-neck top, NY & Co.
Black knit straight skirt, Target
Black elastic belt, NY & Co.
Burgundy-ish & black stripey tights, We Love Colors
Black leather knee-high boots, Clarks
Black beaded necklace with cameo, random accessory store
Silver cameo earrings, vintage
Dark cherry lipstick, Sephora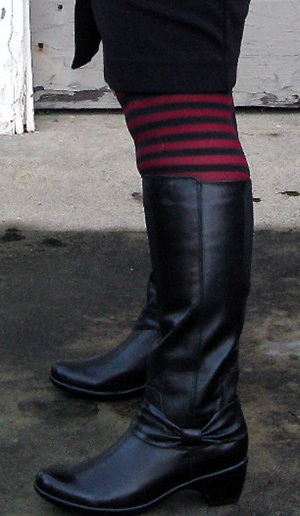 Digging these boots -- walking in Clarks is like walking on little clouds! However, they are a skosh big in the foot (had to be or the calves wouldn't fit, even with the elastic gusset in the back; hello, why don't tall boots come in more calf-widths???). So by the end of the day, the boots had sagged a little at the ankles, & I had a mild hot spot on my right foot. Should have worn socks with them, but ya never know on the first wearing.
But the sole is soooooo comfy! I kept checking to see if there's any heel on these boots at all or they were totally flat, bec. each step was so soft & light. With a little more stretching in the calf, these could be "walk a million mile" type boots. I'll definitely wear those
vintagey-style Clarks pumps
sometime this week too!