But just barely. I don't intend to talk about my personal life on this blog (I have other online outlets for that), but the last few days have been crazy, hence no posting here, not keeping up with comments, & no commenting on anyone else's blogs. Sorry!
Soon after my last post, I got a raging migraine & didn't go to work on Thursday. One of our cats had been vomiting all week, so we took him to the vet on Friday, & it looked like he'd need surgery to remove a blockage. So we cleared all our weekend plans (I was going to go out of town, my husband had hockey game tickets). Then Saturday's cat X-rays showed he was a lot better, but needed pills & special food all weekend. On Sunday night, my husband had to go to the ER, & I missed work Monday morning to help him out. Oh, & all weekend, our Internet connection at home was spotty & slow so I could barely load webpages. Ugh! Everyone is much better now, but it was a hell of a few days.
I'm back at work today, caught up on what I missed here & online. I was inspired to wear this sweater by Vanessa at
Big Girl. Small Budget. Tiny Town
, who wore the pink version of it last week. I've had the black version for ages & always worn it with black trousers or jeans & was never much impressed by it. But I like it a lot better with a belt & a skirt! (Just maybe not this skirt, which is a proof that knits *do* wrinkle, feh.)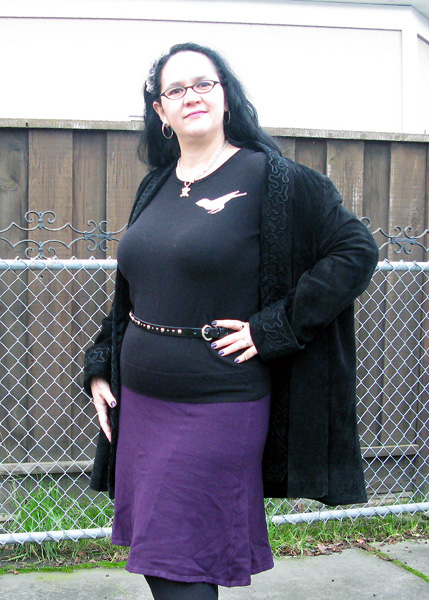 What I'm wearing:
Black with white bird sweater, Old Navy
Purple knit skirt, unknown
Black studded belt, Macy's
Black tights, Calvin Klein
Black leather T-strap wedges, Kenneth Cole, thrifted
Grey headband with lace flowers, Forever 21
Silver skull choker, random accessory store
Silver hoop earrings, random accessory store
Silver skull stud earrings, random accessory store
Black suede swing coat, vintage '80s, owned since the '80s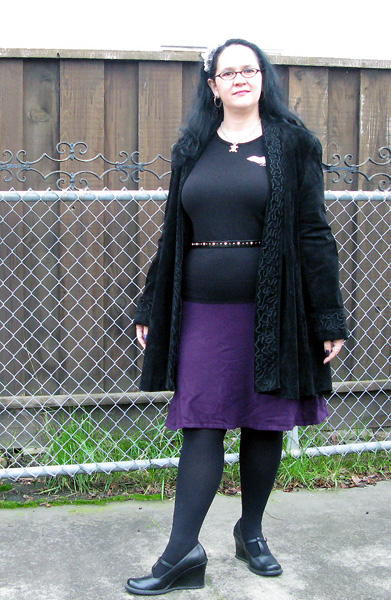 Also while I was out, I received a Major Award from Sheila at
Ephemera
who said my blog shows "
Goth in the Workplace Can Be Awesome." Awwwww, thanks!!!!