No, I'm not
bowlderizing
myself, because I've had Weeks From Hell. This one was bad, but not quite
that
bad. Our boy tabby cat has been ill & needs a pill every morning, which has made it really hard to squeeze in time for a photo. And then I've had cluster migraines every day since last Friday, & I've had to miss work because nothing is touching the pain. Just today, I started a new medication, so fingers are crossed that this may help.
Due to these stressors, I've had precious little energy & time to blog my outfits, &, well, most of my outfits have kind of sucked too. Hence, here are the only two that made it on camera...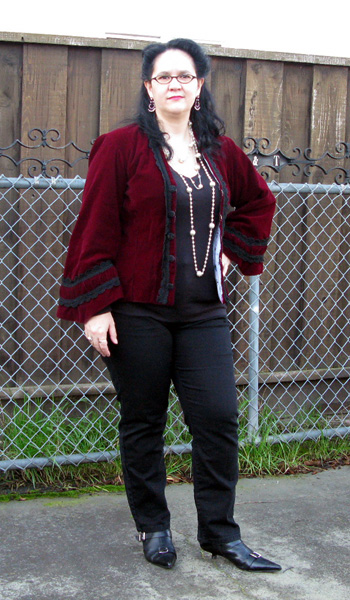 What I wore Tuesday:
Burgundy velvet Victorian jacket, made by my friend Donna
Black long-sleeve T-shirt, Old Navy
Black jeans, Levis
Pointy black boots with buckles & kitten heels, Baker's
Two pearl & silvertone necklaces, Aldo
Black w/pink gem Victorian-esque earrings, random accessory store
Dark burgundy lipstick, Chanel Vamp
The jacket goes with the
Victorian tea outfit
that the
blouse
I wore last week is also part of. The velvet was leftover from making my
wedding gown
(yes, I save every scrap). I bought the pearls thinking they'd be ideal with an Elizabethan gown, but I've yet to make one with silver trim, so I keep wearing these necklaces in my everyday wardrobe.
And the jeans were a successful result of my
quest for black jeans
. Levis 512 petites. A little bit of stretch, the perfect length for this 5'2" gal, & the sizes fit my curves. There's even sparkly black beading on the back pockets (we likes the bling).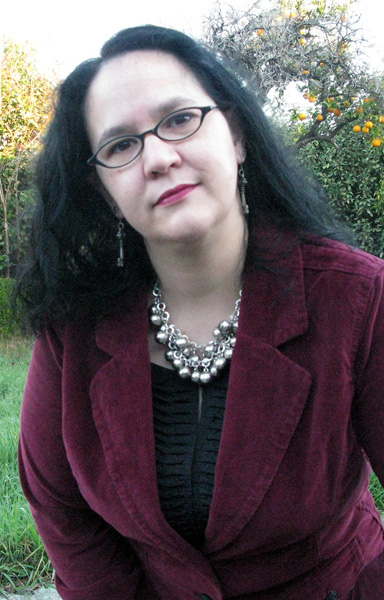 What I wore Thursday:
Burgundy corduroy blazer, Kohl's (previously worn
here
)
Black silk sheath dress, Target (previously worn
here
)
Grey patterned tights, Calvin Klein
Black Indigo pumps, Clarks
Silver chunky bead necklace, Target
Pewter key earrings, made by me
Dark burgundy lipstick, Chanel Vamp
I was interviewed by a university journalism student for a project on digital media today, so I wanted to wear something professional yet comfortable (because I've felt like crap all week). A jacket & a dress is a classic combo. This specific dress is particularly great because it's sleek & simple, & it's made an elegant sueded silk (lined too). The jacket is soft & a little slouchy, but it's still a jacket which always reads "professional." I like to make a good impression.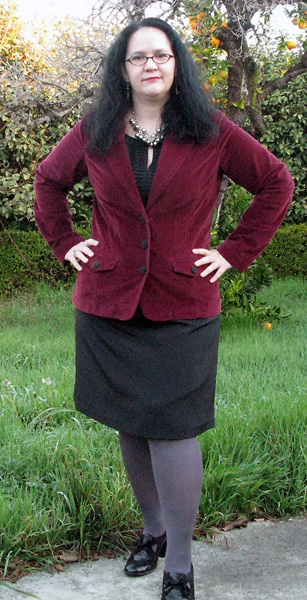 Then I went for a slightly less-traditional color combo (for a CorpGoth ;-) by adding the grey tights. Black would be obvious, but I really need to do laundry & am out of all my fave. CK black tights! But I forgot that I'd bought some patterned & textured CK tights during that Black Friday sale; they were lurking in the back of my tights drawer (yes, I have a whole drawer full of nothing but tights & 3/4ths of them are black). Instead of the tone-on-tone black pinstripe, I gave the grey a try. What a rebel, I know.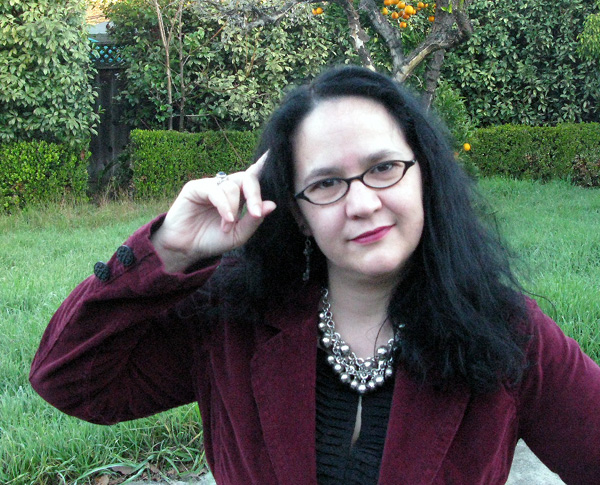 The brain, that's where the pain is.