Not feeling colorful today, & I wanted to embrace my gothiness! Oddly coincidental that, when I got to work & logged onto the computer, I saw that
Already Pretty
posted about "being intentional with black." Hee. Some of us are always intentional with black! Us goth gals have to work to be intentional with color (see:
Gothic Color Theory
).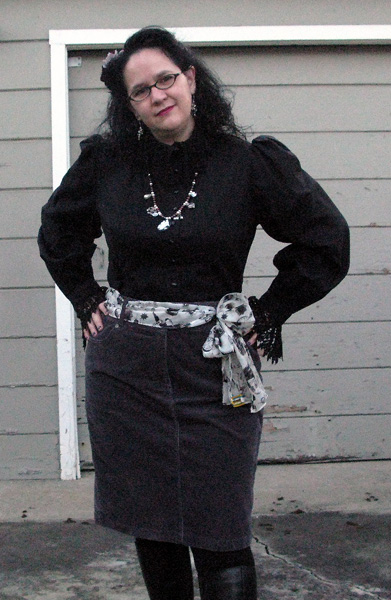 What I'm wearing today:
Black cotton Victorian blouse, custom-made by my friend Donna
Grey corduroy straight skirt, Newport News
Black & grey printed silk scarf, Libertine for Target
Black tights, Calvin Klein
Black leather knee-high boots, Clarks
Pearl, cameo, & silver charm necklace, made by me
Sparkly dangly earrings, random accessory store
Black & grey flower hair pins, random accessory store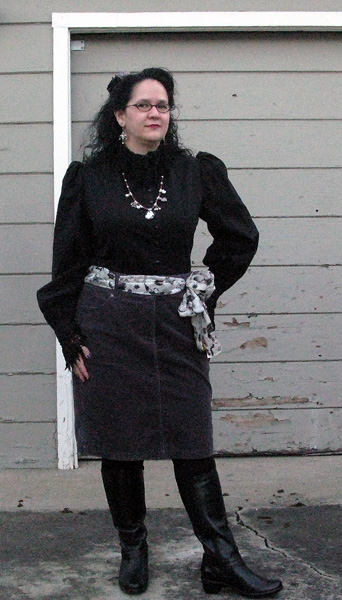 This blouse was originally made as part of a
Victorian tea outfit
, but I see no reason to relegate it to my costume closet. I'd wear the velvet jacket from that outfit on an everyday basis too, except it requires corseting for the front to close. Tho' I could wear it open, & that might look snazzy with black jeans... hmm... should try it.
I love this scarf but hardly ever wear it because it's one of those skinny little ones that seems hard to style. Plus, being light silk, it flutters around & can be annoying. Glad I finally thought of using it as a belt, even tho' that means you can't see the awesome print of skulls, crows, books, & hardware as well. It's an impression, I guess.
And finally, the Clarks boots, still fantastic. Now worn with socks for even better super wonderfulness. I *will* walk miles in these.