I'm kind of hating the fuzziness of my daily photos recently. Been tweaking w/the camera settings to no avail -- the early morning light around my house is just flat & grey. Normally, I love that (hello, goth here, I really do want to live in a dark cave! the inside of my house is dark, dark, dark, & to have a little dark could sitting over my house is like heaven). But it kinda blows for getting crisp photos that show what I'm really wearing. Well, at some point, 7:30am in Silicon Valley will be blazes bright, & I'll be hating it, but the pictures will look gorgeous. Just you wait...
What I'm wearing:
Black ribbed turtleneck top, Style & Co.
White & black cat-print skirt, Phlirt on Etsy (previously worn
here
, with close-up of the fabric)
Black tights, Calvin Klein
Black pointy double-buckle flat not-quite-boots, Aldo
Silver book locket on chunky chain, Forever 21
Silver filigree earrings, Target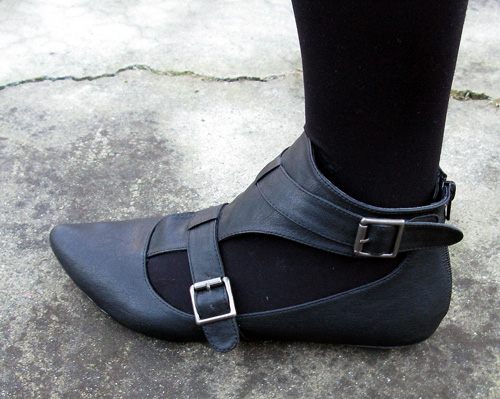 Gothic elf boots!
By the end of the week (this is the end of my "dressing up for work week" since I work from home on Fridays), the makeup pocket of my purse is full of a half-dozen different lipstick tubes. It usually includes a few from the weekend & maybe one leftover from the previous week. But I know that the end of the week is nigh when I can count 5 or 6 lipsticks in there.
What's the end of your week like?