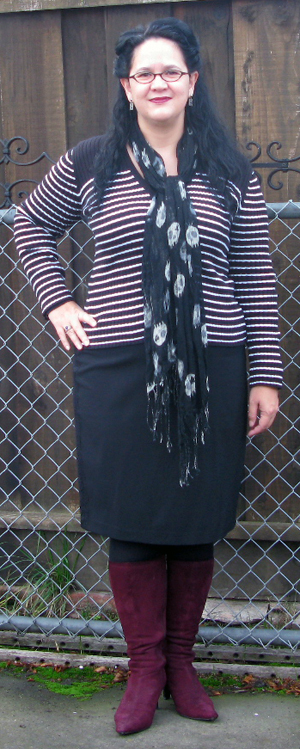 I've often admitted that my photos for this blog are kind of crappy. It's just me & a tripod with five minutes in the morning before I head out to work.
I don't have a fancy studio with lights & a backdrop, & I don't have anyone else to take photos for me & say "honey, remember to stick your neck out so you don't get a double-chin" or to wait until the wind doesn't mess up my hair or scarf. I take pictures outside because the lighting is marginally better there than in the bat-cave of my house. I use the 10-second timer on my camera & hope for the best. I'd been using a cheap old tripod that wasn't exactly steady & was very crooked -- things I'd have to fix in PhotoShop every night.
Well finally, I bought a new
tripod
, & wow, that sure helped! I still have weak lighting, the timer, solo photoshoots, & minimal time in the morning, but at least the camera is held up sturdy & level. Every little bit helps.
What I'm wearing:
Black & white stripe sweater, Chadwicks
Black long-sleeve knit top, Old Navy
Black skirt, NY & Company
Black tights, Calvin Klein
Burgundy faux-suede boots, DSW
Black skull-print scarf, gift from my husband
Pewter square earrings, local artist
How do you take photos for your blog? What equipment do you use? Does anyone help you out?