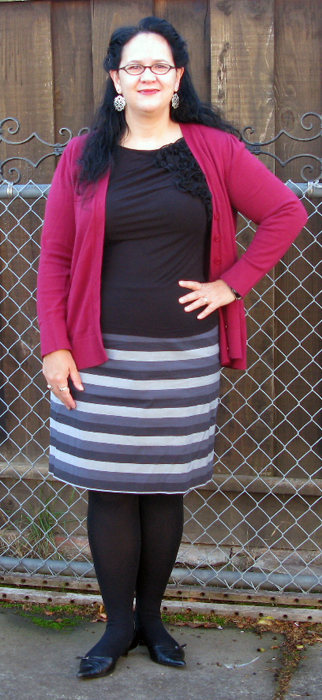 This week marks the second year anniversary of me starting This Is CorpGoth, & I also started a new job today. Quite a momentous occasion! My first outfit on the blog was
November 3, 2010
, & I celebrated my first blogoversary on
November 7, 2011
.
The past two years have seen the peak and fall of my satisfaction at my previous job, & sometimes it felt like this blog was the only thing that kept me getting up & going to the office in the mornings. When I was dragging & feeling totally uninspired by what my career offered, I knew I could at least put on a snazzy outfit, post it, & maybe someone would comment. *You* really helped me get through the tough times, all of you, each & every one of your comments. I may not always have the time to reply, & I wish I could go comment on all of your blogs (I do read them, oh yes, I do, religiously!). But knowing you're out there in BlogLand really means a lot to me.
I'd like to thank a couple people specifically:
Shelia of
Ephemera
-- Your blog is a delight to behold! Every outfit is something creative & unusual, even if it's not something I might wear. I admire your style so much. And I enjoy the appearances of your kitty & sidelines into the beautiful Canadian landscape. Thank you for your comments on my blog, & thank you for being such a great inspiration to keep it colorful & rockin'!
Franny of
The Professor's Various Blogspots
-- Hee, I can't help it, I make fun because I love! Your transformation over this past year has been awe-inspiring & lovely to behold. I adore your posts about gardening & cooking & camping, even tho' I only comment on fashion. I want to read your dissertation as soon as it's done! I wish we weren't on opposite sides of the country because I'd love to sit over coffee & talk literature & old-school goth music with you for hours.
And also my champion regular commenters, particularly from
Lennea pa Landet
&
Cuz I Said Sew
-- showing up with a kind word or clever insight, time & again! And with fantastic blogs of their own -- go read them :-)
Oh yeah, what did I wear for my first day at a new job, the first new job I've had in 11 years? Something gothy but with color so as not to freak the mundanes too much. Gotta ease my way in, y'know.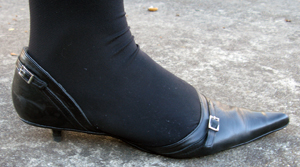 What I'm wearing:
Burgundy boyfriend cardigan, Chadwicks
Black knit top with floral ruching, NY & Company
Grey striped skirt, Nordstroms
Black tights, Calvin Klein
Black pointy kitten-heel pumps, Aldo
Silver filigree earrings, Target
Silver & garnet ring, bought in India
"Raisin Rage" lipstick by Revlon