Photos aren't the best, but here we go...
Grey denim jacket, Newport News
Black T-shirt, Gap
Black twill skirt, Gap, thrifted, trimmed by me
Black w/gunmetal shoes, Target
Couldn't see the shoes in these pix (but one of my cats, Toulouse, nearly made it), so here's a closeup.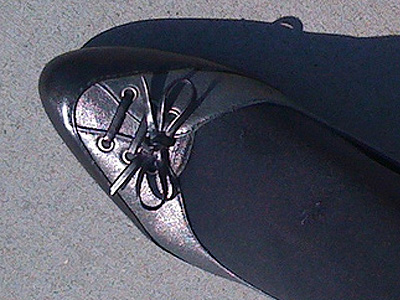 And a closeup of the skirt trim, which I sewed myself. Used a strip of grey & black striped silk, 2 kinds of lace, & black velvet ribbon. All of which were from my fabric stash.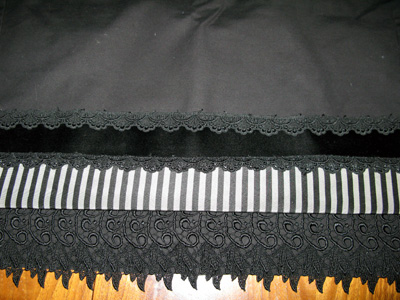 I'd say this is a fairly typical outfit to work. The jacket means it's more pulled-together -- on a lazier day, I'd just wear a sweater or blouse. But still, it's classic CorpGoth, meaning monochromatic jazzed-up with a bit of texture & trim.