So, I did manage to get pix of what I wore on Thanksgiving -- tho' it turned out to be more difficult than my usual 7:30am photoshoot because my front porch was too dark at noon & the backyard was too bright. Go figure!
I swear, getting decent pictures is the hardest part about this blog. I have a great camera (a Canon G9), which I know how to use & have taken tons of fantastic outdoor landscape & architectural shots all over the world. But timer-&-tripod photos of me? Horrrible! Plus, I've never thot I'm all that photogenic. Getting decent pix of myself in costume has always been difficult except with a few really amazing photographers who can style a picture well. But me, going fast, on a timer? Torture. Oh well. The point is to get the clothes.
What I'm wearing:
Berry-colored print cardigan, Chadwicks
Velvet & satin stretch skirt, tags missing
Black tights, Calvin Klein
Black kitten-heel pumps with tiny buckles, Payless Shoe Source
Pearl, silver bead, cameo, & silver charms necklace that I made recently
Silver cameo earrings, vintage
Pearl stud earrings, gift from my stepdad
Burgundy hair flower clip, Forever 21
Cabernet lipstick, Tarte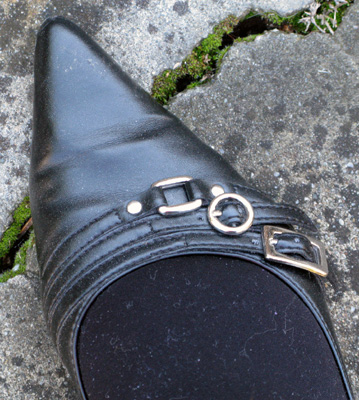 On Thanksgiving, my hubbi & I first went to his dad & stepmom's house for an early dinner (we only ate a little there) to see his grandmother, aunt, & cousins. Then we had our actual dinner at my mom & stepdad's house where his mom & stepdad joined us, along with my parents' old family friends who are like my aunt & uncles. It was a long afternoon/evening of good food, wine, conversations, & fun. We left Mom's house with a ton of leftovers, even 2 bottles of wine!
At some point late Wednesday / early Thursday, I found out that a lot of clothing stores already have their Black Friday sales online. Hah!
New York & Company
has
everything
in the store 50% off, plus free shipping on orders over $99, which I easily made. And
Kohl's
has a ton of things 40% off, with free shipping on orders over $75, also easily done.
In the past when I've done a little shopping around this time of year, it's all been Xmas gifts. But this year, I've already bought my gifts & have a start on the handmade gifts. So, hey, it's OK to shop for me! And the stuff was all on super-duper sale, sweeeeeet.
Today, all I'm buying is a programmable thermostat because our house is freezing, thanks to the thermostat breaking during this week's coldsnap. I *might* hit the thrift store too because I have some DIY ideas, but otherwise, it's sewing & stuff around the house.
Happy long weekend to thems who have one!