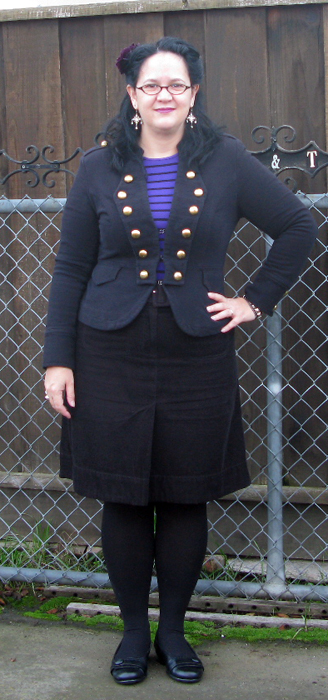 I was really happy to get this striped tee at an after-Xmas sale. Actually, I bought three like it: one black & white, one pink & black, & this purple & black. Plus a black & white damask print of the same style. All are by Ralph Lauren Petites, sold at Macy's. Further proof that you can find perfectly goth-able garments with most any label.
I'm always on the lookout for basics with flair, like these print tops. I have tons of solid black tops & solid purple tops, but adding stripes, damask, plaid, & dots in livens up my wardrobe.
What I'm wearing:
Black knit military jacket, Macy's | Purple & black knit long-sleeve top, Ralph Lauren | Black corduroy skirt, H&M | Black tights, Calvin Klein | Black flats, Aerosoles | Silver & crystal earrings, random accessory store | Purple flower hair pin, random accessory store
Do you like to wear prints & patterns?