Not totally new hair, but at least a hair cut, which for me is pretty shocking. I *hate* to get my hair cut -- I've always preferred long hair, even tho' it starts to look scraggly & stringy, but then, I was raised by hippies, so that feels natural to me. I just live in fear of hair stylists who always want to cut my hair super-short, & I have never, ever had a good short hair style. I end up looking like Paul McCartney, no lie.
Anyway, my hair was so long, it was at the horribly messy point where I tended to just pile it on top of my head, so why not get a cut? One of my excuses for keeping it long is always that I do historical reenactments, & long hair is more historically accurate. However, for most every historical hairstyle I do, I wear hairpieces & wigs & only style a little bit of my own hair, so I really don't need my hair to be any longer than shoulder length. So off it went
The haircut isn't dramatic -- about 4" off & hardly different in shape. But it feels lovely, lighter, & healthier. I also dyed my roots (read: greys) for an added bonus.
What I'm wearing:
Black & grey knit dress, Coldwater Creek
Black long-sleeve knit top, Old Navy
Black velveteen jacket, Black House White Market
Black tights, Calvin Klein
Black high-heel granny boots, Aerosoles
Silver bead choker, Target
Silver teardrop earrings, Claire's
Jet & gunmetal cocktail ring, Icing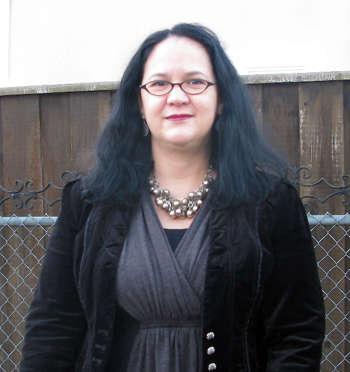 How often do you get your hair cut? What's your favorite style?