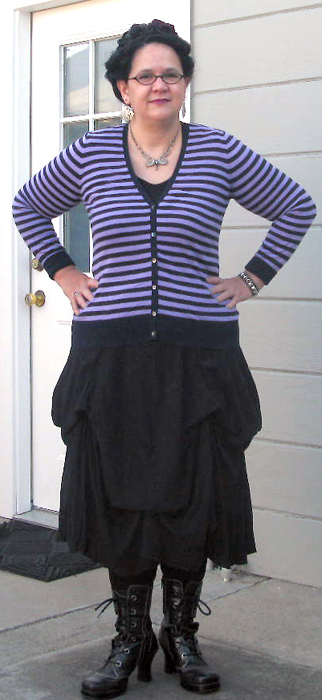 Not until after I took the first of these photos did I realize I was wearing the wrong boots. Or at least, I was wearing different boots than I thought I had put on! So I went back & took photos of these boots (because it felt more wrong to go change boots at that point).
When I was grabbing boots & putting them on in my walk-in closet, I thought I was getting the pointy high-heeled granny boots (last worn
here
), not the round-toe high-heeled ones. But they both lace up the front & have side zippers & the same height heels, so they *felt* the same as I put them on. When I looked in my full-length mirror, I didn't notice the shoes, but I later realized that there was something blocking the very bottom of the mirror, so I didn't actually *see* the shoes with the outfit.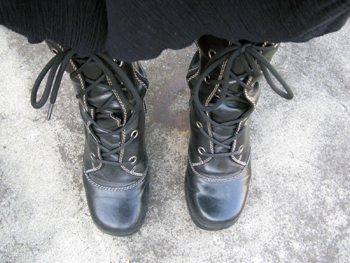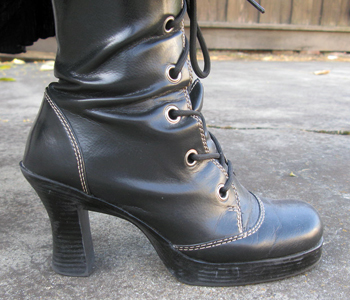 Ah well, they almost look the same with this ensemble. I wonder if this means I have too many of the same kind of boots? Naahhh....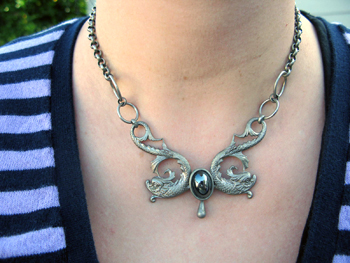 What I'm wearing:
Black & purple striped cardigan, Old Navy
Black T-shirt, Target
Black crinkle gauze peasant skirt, Macy's
Black tights, Calvin Klein
Black lace-up, spool-heeled boots, Target
Silver & hematite fish necklace, Ann D'Aboise
Silver filigree medallion earrings, Target
Purple & black flower hair pins, random accessory store
Purple lipstick, Sephora house brand