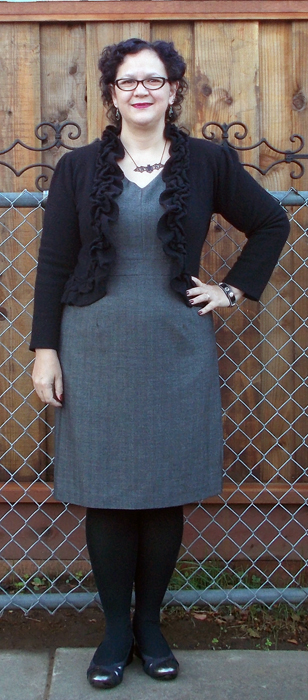 I've gotten really lazy about wearing makeup recently. Not that I ever wore a ton of makeup to work. My standard office-face routine used to be just eyes and lips. I'd wear black eyeliner, a touch of eyeshadow, and dark lipstick. Maybe once every couple of weeks I'd wear a light bit of foundation and powder, usually to cover up especially dark under-eye circles or an annoying blemish.
Well, since starting this job with the longer commute, I've been skipping the eye makeup more and more often. I probably wear eyeliner once a week, and eye shadow is just a shadow of a memory. That said, I'm loving the heck out of the
Benefit They're Real Push-Up Eyeliner
I bought a few months ago. It's cat-eye liner for dummies. It's all about the tip. The 'push-up' thing is actually a bit annoying because it doesn't always push up enough or a consistent amount of liner, but once you get it going (usually on a finger or a tissue), wow, it's great. That shaped tip draws perfect cat-eyes every time, as long, thick, and catty as you want. The stuff also has major lasting power. So much so that I had to buy Benefit's accompanying They're Real Remover to get the stuff off (my usual makeup remover required too much elbow grease, and rubbing one's eyes ain't nice).
Of course, I'm mostly wearing this on the weekends because I can't be arsed to tart up my eyes at the crack of dawn before going to work. Ah well.
What I apparently can be arsed to do is jump on Twitter. I'm slow to the bandwagon by a half-decade, I know. But it's not like I wasn't busy with every other thing online already. Are any of you on Twitter? Please follow me at
ThisIsCorpGoth
and chat me up! I'll still be blogging, but since December is super-freaky-busy for me, I may tweet more than blog because 140 characters is easier to fit in between stuff.
Also, due to my crazy month, there won't be another Mid-Month Status Report until January. Hey, you've all got holidays or maybe just weather to slog through too, right?
What I'm wearing:
Grey sheath dress, Target | Black ruffled bolero sweater, Kohl's | Black tights, Calvin Klein | Silver grey wedge heels, Anne Klein | Black bat necklace, Walgreens | Silver & onyx earrings, bought in India