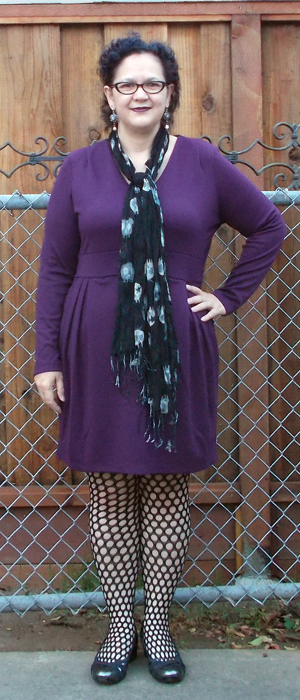 What would you do if given the following amounts (and using it to pay bills or debts is not an option!):
$1
-- What can you really do with a buck these days? It takes $2 to get a one-way trip on my daily commute, and a latte is at least $3. So I'd probably just put it in my pocket and save it.
$10
-- Buy coffee for me and a friend. Always nice to have a cup and a chat.
$100
-- Oooo, here's where things get interesting. I'd treat myself to a new dress or pair of shoes from my
CorpGoth Pinterest board
, for sure.
$1,000
-- Plane tickets for me and my sweetie! We could easily go across the country to visit friends or go to Europe and stay with family.
$10,000
-- Remodel our bathroom. OMG, I hate our house's tiny little bathroom. We only have the one, and it's pathetic. This wouldn't be enough for a crazy-mega-awesome redo, but plenty for vital upgrades and some cosmetic touches.
What I'm wearing:
Purple knit dress, Land's End | Black skull-print scarf, gift from my husband | Black pot-hole stockings, Target | Silver-grey wedges, Anne Klein | Purple bat-painted earrings, Jewels by Olivia