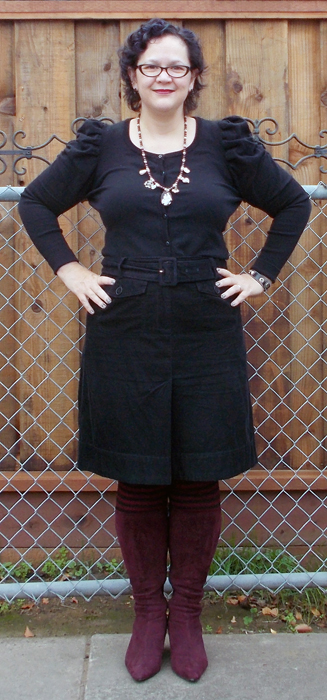 I can't believe there are
whole stores
selling "one size fits all" garments. Because, as that article rather hilariously proves, one size fits none. While they're talking about garments like shirts and skirts, which is pretty hard to believe one size could fit any kind of range, a place where "one size" has been standard for ages and doesn't look to change any time soon is hosiery.
Tights, in particular, and the more unusual the style -- like stripes, fishnets, spiderwebs, etc. -- are more likely to come in that dreaded "one size." And for a garment that is intended to be, well, TIGHT, being available in only one size is horrible. As a short woman with curves, one-size tights are my absolute nemesis. All tights are too long, so they bunch at the ankles, but one-sizers have the added problem of being uncomfortably tight at the waist. They'll sometimes ride down too. Ugh.
Which is why I love the heck out of the Calvin Klein black tights I wear most every day: They come in four sizes, as do all CK hosiery. That's more than most brands. Some only have two sizes, regular and plus, others might have three (adding a tall), but Calvin Klein actually has some diversity. It's not much, but it's just enough for me. Pity they're not in stock year-round!
Related:
This is what happens when you buy cheap clothing from Singapore online
. Hilarious yet sad revelation of the misleading size labels and shoddy quality of many of those super-cheap clothing retailers you see on the web. eBay and Etsy are particularly full of them, but any web search for clothes can turn up these too-good-to-be-true businesses. Yeah, not shopping there!
What I'm wearing:
Black puff-sleeve sweater, H&M | Black corduroy skirt, H&M | Black tights, Calvin Klein | Burgundy faux suede boots, DSW | Burgundy pearl & cameo necklace, made by me | Silver cameo earrings, vintage