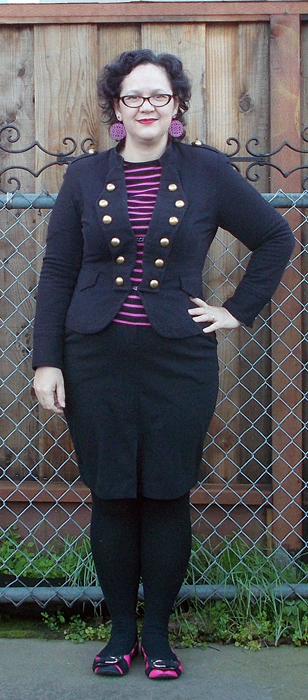 I hate to cook. But I need to eat. And my husband doesn't really know how to cook. So unfortunately, if I want more than (unhealthy, expensive) takeout dinners or (boring) Lean Cuisine frozen meals, sometimes I have to force myself to cook.
One thing I've found that helps, particularly with my busy schedule, is ye olde slow-cooker, aka a Crock Pot. I got a giant, oversized one free when a friend was moving, and since I'm just cooking for my hubbi and I, these slow-cooker meals make a LOT of food. I like to figure out recipes that I can tweak for a couple meals that aren't exactly the same thing over and over again with the leftovers.
Thus was born this recipe that I got published on Offbeat Home recently
The Slow-Cooker Salsa Chicken That Makes Three Dinners
. Take a look, try it out, and let me know what you think!
What I'm wearing:
Black knit military jacket, Macy's
Black & pink stripe top, Ralph Lauren
Black knit skirt, Target
Black tights, Calvin Klein
Black & pink flats, ShoeMetro.com
Pink filigree earrings, Etsy
Pssst: #SnarkWeek continues over on
FrockFlicks.com
,
Facebook
, and
Twitter
! Join me there :)