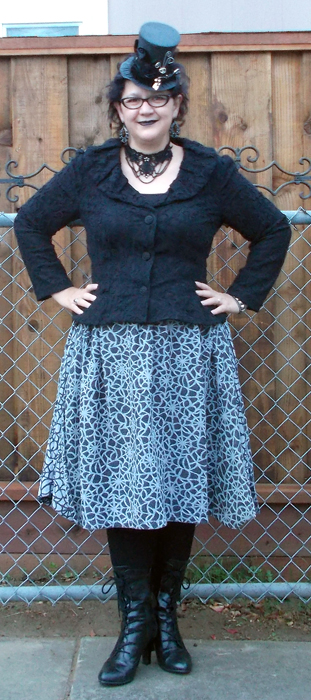 This was a special-occasion outfit, so more gothic than average or every day. Sometimes, it's just required. I wore a mix of things I've made and purchased with a little vintage vibe.
I've been a little absent from blogging here because I've been working very hard over on
FrockFlicks.com
, where we're starting #SnarkWeek today. If you've ever watched a historical costume movie and wondered WTF are they wearing, come on over and check out a whole week of non-stop snarky fun! We're also on
Facebook
and
Twitter
.
What I'm wearing:
Nightmare Before Christmas themed mini top hat, bought in Disneyland | Black lace jacket, Macy's | Black T-shirt, Old Navy | Black & white spiderweb skirt, made by me | Black tights, Calvin Klein | Black heeled granny boots, Aerosoles | Black lace choker, bought at Convergence | Dangly faux-jet earrings, random accessory store | Black lipstick, Make Up For Ever
Do you enjoy costume dramas on TV or the big screen?