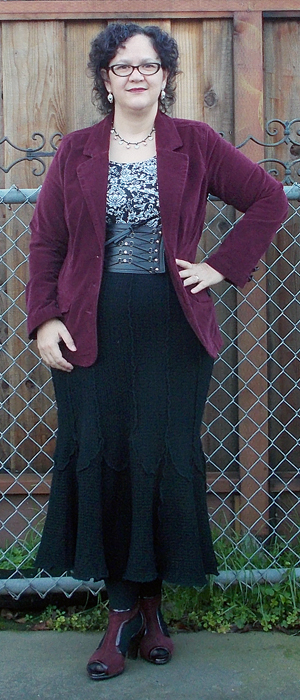 I'm not usually big on Buzzfeed stories, but damn, this one is worth reading. They retell the entire Harry Potter series with Hermione as the main character, fighting The Patriarchy. She is
The Girl Who Literally Gives No F*cks
. It's pretty damn brilliant.
On a slightly related tangent, equally worth reading is
The Subtle Art of Not Giving a F*ck
by Mark Manson. This post is more broad (it's not a feminist rant like the Buzzfeed one), but it has practical applications in everyone's life. The essence is that you only have a limited amount of f*cks to give over your lifetime, so you must spend them with care. Don't waste them on little, unimportant crap.
What do you give a f*ck about? What have you stopped giving a f*ck about?
What I'm wearing:
Burgundy corduroy jacket, Kohl's | Black & white damask knit top, Ralph Lauren | Black crochet trumpet skirt, Coldwater Creek | Black corset-style elastic belt, Torrid | Black tights, Calvin Klein | Burgundy suede pumps, Soffit | Black & rhinestone necklace, random accessory store | Rhinestone skull earrings, gift from Sarah
One thing I give a f*ck about is
FrockFlicks.com
, because we're having a ton of fun writing about historical costume movies. #SnarkWeek is still happening on the blog,
Facebook
, and
Twitter
! Check it out :)