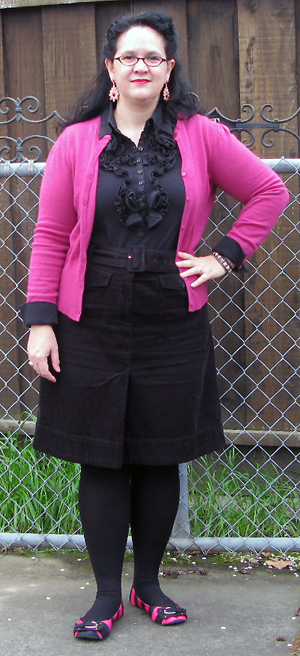 I'm well & truly stuck in a rut. I've been having a hard time doing anything creative recently, whether it's putting together an interesting outfit (& thus having anything worth blogging about) to writing (here or elsewhere) to sewing to you name it. My career is stuck, my artistic life is stuck, I'm stuck.
What I'm wearing:
Hot pink cardigan, unknown brand, maybe thrifted | Black knit top with 3D roses, Newport News | Black corduroy skirt, H&M | Black tights, Calvin Klein | Black & pink stripe flats, DSW (shout-out to
Coffin Kitsch
for mentioning these & inspiring me to get 'em) | Pink & gold earrings, Ruche
I don't quite know how to get my groove back other than try & push through. That's really hard, & yet it's all I can do at this exact moment. I'm open to suggestions tho!