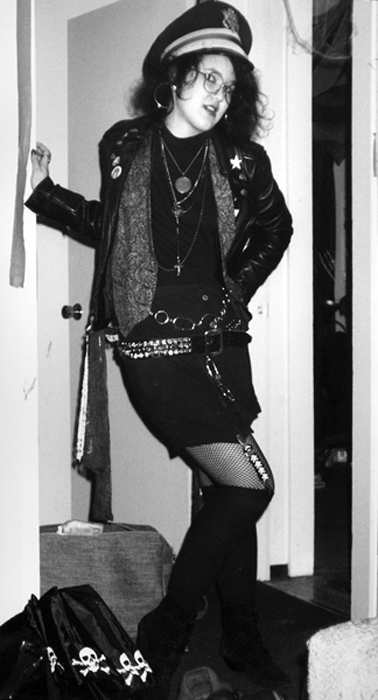 Me circa 1988
Sal of Already Pretty brought up a very relevant topic this week:
What is the line between sartorial personae and poseur dressing?
As goths, I'm sure we've all seen this happen ... from younger kids wearing band T-shirts but obviously not knowing anything about those bands to fashionable women wearing
black nail polish
because some magazine says black is the "in" color this season ... in the past 20 years, we've had goth co-opted by mainstream fashion. And there's nothing like a little
cultural appropriation
to get me in a ranty mood, so here ya go!*
If you're old enough to remember a time before
Hot Topic
stores were in every U.S. mall, you know how gothic fashion used to be a signifier of a weird little group of outcasts, kids who were picked on at school because we didn't like the same stuff as the popular kids, we listened to strange music from the U.K., we probably read a lot of odd books (maybe science-fiction & fantasy & horror, maybe Victorian novels too), some of us were queer, some of us were as misunderstood at home as at school. We wore black on the outside because we felt black on the inside (TM). And we had to work pretty hard to get that black -- we scoured thrift stores & clearance racks for velvet & lace, we safety-pinned patches on our jackets, we even sewed our own clothes, & if we saved up the cash, we ordered pointy boots from England, & we could only get black nail polish & lipstick at Halloween.
OK, enough nostalgia! My point is that
subcultures
start somewhere in the distant past & are slowly brought into the mainstream (that would be cultural assimilation, for the non-academics still reading). Today, you can hop to the mall or jump online & buy everything from
dark makeup
not intended for goths but that looks incredibly gothic to hardcore PVC & chains oh-my-goth
gothic clothes
. All you need is a credit card.
And how do we, who claim to be goth in some respect, feel about that?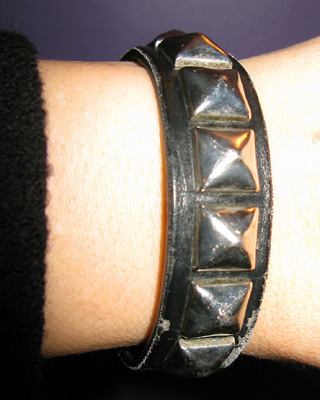 Symbols matter
Look, I don't tart myself up in anything remotely uber-goth anymore. I have no time, place, nor real inclination to do so. But since I was about 16, I've considered myself goth at heart, & that has not changed no matter my clothes nor anything else about me. As many have said, it's about more than the clothes -- but, crucially, the
clothes
are the symbol, the outward manifestation of what's on the inside.
The studded cockring on my left wrist is a signifier of where I've been, what I've experienced, the pain, the joy, the people, the memories, it carries a little bit of everything that being goth means to me. I wear it with every single outfit I wear, every day, aside from
historical costumes
(& only then because I'm a stickler for accuracy; yeah, I take off my glasses too).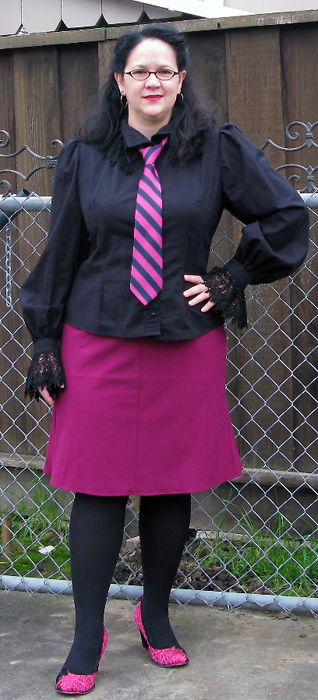 PerkyCorpGoth 2012
I'm of two minds when goth fashion is co-opted by the mainstream. I'm annoyed by Them taking away something that has Meaning to Me. But then again, I'll buy the damn makeup & clothes because, well, I'm old & I have a frickin' credit card now. My inner 16-year-old is giggling with glee to be able to dress up so nice for a change!
Of course, someone else could wear this stuff & look entirely not goth, not even try, not even want to. It's when someone puts the black dress & the black boots & the black nail polish together & says "I'm going goth today, hee hee!" that I roll my eyes. As if our
history
, outlook, &
culture
are merely a
costume
that you can play dress-up with. Thanks for the dehumanization.
How do you feel? Do you care one way or the other?
Related links:
*Note: For any snippy non-goths reading, yes, I know this may not be cultural appropriation on the level of Native Americans being used as sports team mascots (offensive & tired) or supposedly ethnic clothing lines at chain stores (offensive & commercialized) or the vast number of sexy "insert racial stereotype here" Halloween costumes (offensive & stupid). But every time the mainstream gets away with another episode of this scott-free, the more likely it will continue to happen bigger & badder. And if you're still feeling snippy, check out the f-yeah cultural appropriation tumbler :-)