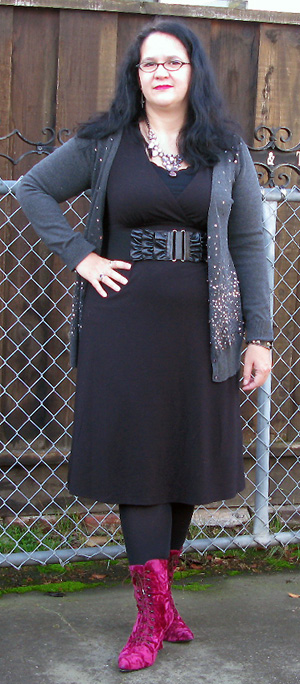 I'll admit I'm cheating on my very first CorpGoth Mid-Month Status Report. This is a repeat photo. Because I'm working from home this week, & there's a random heat wave, I couldn't bring myself to wear anything remotely office-worthy. But looking through my archives, I confirmed what I suspected.
My go-to work outfit is a dress & a cardi. Who can blame me? It's the easiest thing to put together on a busy morning & still look chic & professional. I collect classic sheath dresses & basic knit dresses with empire waists & surplice tops, especially in black, then look for cardigans in jewel tones, stripes, & dark florals. So simple to mix & match these kind of pieces! Add some great boots or funky heels, maybe a belt or scarf or statement necklace, & I'm out the door fast.
What I'm wearing:
Grey cardigan with sequins, ModCloth
Black knit dress, Target
Black camisole, Old Navy
Black elastic belt, NY & Company
Black tights, Calvin Klein
Burgundy/fuchsia crushed-velvet ankle boots, bought from a friend
Pink rhinestone bib necklace, Forever 21
Silver Celtic cross earrings, somewhere in Berkeley
So share a link to your Status Report in the comments so everyone can see your work uniform! And watch for the next Status Report around the start of November.
Check out the reports from: