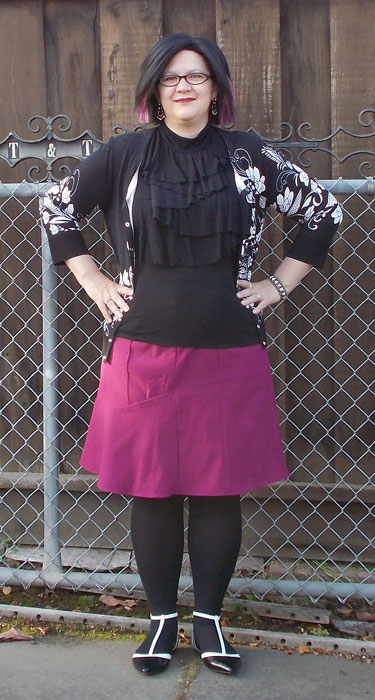 I must admit, I only wore this wig for the morning blog photo. It just went so perfectly with the outfit! But I wore this ensemble within the first week at my new job, & I didn't want to freak everyone out by showing up with different hair *that* fast.
Sure, it's easy enough to Google me, find this blog, & read all about my cancer & see my bald head, much the less my different wigs. But it's still a little odd to show up with crazy hair after just meeting someone.
At some point in, hopefully, the next few months, my real hair will be long enough that I can go without a wig at all. It's about an inch long right now, so maybe by the end of summer I'll have enough hair for a proper pixie cut.
That will be enough of a shock for people -- going into the office one week with a long or bobbed wig & then coming in the next week with a pixie cut. I'll answer all the questions then honestly, but right now, just starting out, I'd rather leave it be.
What I'm wearing: Black & white floral sweater, White House Black Market | Black ruffled knit sleeveless top, Macy's | Dark pink skirt, NY & Company | Black tights, Calvin Klein | Black & white stripe T-strap flats, Nine West | Black with pink crystal dangly earrings, random accessory store