I'm starting to realize that if I blog literally every single office workday outfit, I'm not going to have much of interest to *write* about each day. For one, I meant for this blog to primarily be about my clothes, not my personal life. It's intended as a primer on how goths & subcultural types can dress for "normal" office jobs, a show & tell session with occasional
articles
about this topic.
But now that I'm going into the office 5 days a week & have a plethora of outfit photos to choose from, what should I write to go along with them? Sure, there will be days when I don't feel like blogging at all -- an outfit feels dull or I don't have time to take a picture in the morning or I don't have time to create the post in the evening. But when I do blog, what should I put with the photo?
At least, when the outfit doesn't spark something specific, which frankly, a lot of them don't. If I have a new item to show off or am testing out a weird combo, yeah, I'll mention that. And some days, I might actually have something on my mind, heh.
But I'm throwing this out to you. What, if anything, are you interested in reading here? Personal stuff (obviously, only as personal as I'm willing to share, but hey, I told y'all about cancer!), like how my day was, yada yada yada. Articles of interest that I've found? Memes? Song lyrics? No text at all? Does it matter? I'm all ears!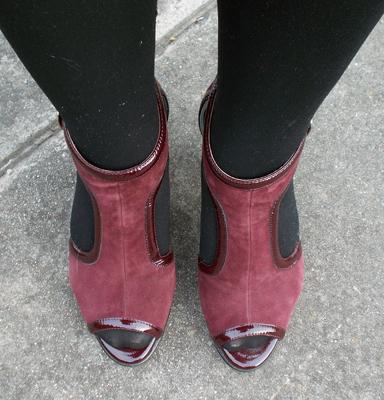 What I'm wearing:
Burgundy peplum sweater, Anthropologie | Black knit top with ruched flowers, NY & Company | Black & brown Ikat stripe skirt, Kohl's | Black tights, Calvin Klein | Burgundy suede cutout pumps, Soffit | Black & gold medallion earrings, random accessory store