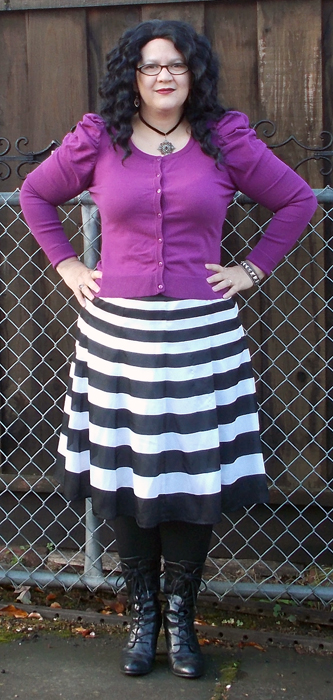 This outfit coincides with me test-driving a new lipstick: Make Up For Ever's Aqua Rouge in Dark Raspberry. It's available at
Sephora
& some department stores. A friend recommended this specific brand because it's super long-lasting. I was with her at a costume event, & she wore Aqua Rouge all day, through eating lunch & drinking cocktails, & her lipstick looked great, didn't need any touch-ups. Whereas I was constantly reapplying my lipstick. So I finally got some for myself.
Unfortunately for goths, Aqua Rouge doesn't have many dark colors -- only three looked sufficiently dark enough when I tested them in the store, the Dark Raspberry that I'm wearing, a slightly redder shade called Burgundy, & the Purple, which is a dark bruise of a purple. Nothing too exotic.
Aqua Rouge comes in a lip gloss formulation, which isn't my favorite, but you don't have to use the gloss itself. The double-ended tube has color on one side & clear gloss on the other. I only wore the color. Typical of glosses, it goes on sticky (ew) & stays tacky for at least 15 minutes until it finally dries. During this wet stage, you can fix any mistakes you've made by just wiping away excess, but you don't wait much longer. Once it's set, it can be difficult to fix without makeup remover.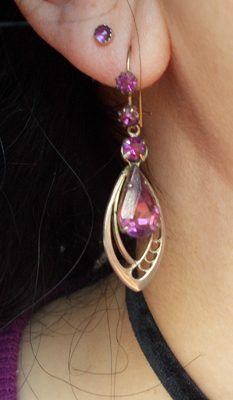 Overall staying power was decent but not spectacular for my first wearing. The lipstick lasted fine through the morning when I did nothing but drink coffee. For comparison, my usual lipstick requires a tiny touch-up by noon. But the Aqua Rouge looked the same before lunch as it did when I put it on. Unfortunately, the lipstick didn't make it through lunch. I didn't make it easy -- I went to a long lunch for sushi with tempura-fried appetizers. Probably the bit of greasy food wore away at the lipstick. By the end of the meal, my lips had only a faint trace of color & darker at the edges. Better than being completely lipstick-less as happens with all my other lipsticks, I guess, but not dramatically good staying power. On the upside, when I kissed my husband "goodbye" in the morning & "hello" after work, no lipstick transferred onto him, which he complains about with some of my dark lipsticks.
I give Aqua Rouge a "B-" rating -- lovely but limited color palette, long-lasting for a cocktail party, but maybe not much else.
What I'm wearing:
Purple puff-shoulder sweater, H&M
Black & white stripe skirt, White House Black Market
Black tights, Calvin Klein
Black lace-up heeled granny boots, Aerosoles
Silver jeweled medallion on velvet ribbon, vintage
Gold & purple earrings, vintage, from my grandmother
Make Up For Ever Aqua Rouge lipstick in Dark Raspberry