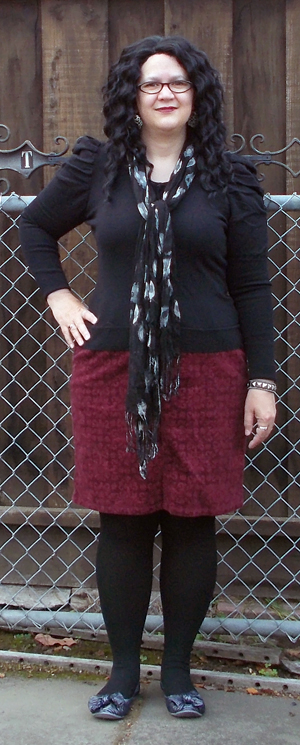 I've had three opportunities to buy shoes recently, & they've each driven me mad because, wow, I seem to have issues about shoes. Yet I own about 80 pairs, according to the last very approximate closet census.
The first frustrating shoe shopping was when I needed to order one small, just-under $10 thing from Amazon.com, & to justify shipping, I figured I'd throw in something else to make a $30-$40-ish order. All the books on my wishlist were crazy-expensive costume reference tomes, so they were out. Thus I figured, why not a cute little pair of flats? I default to wearing this one boring pair of black flats a lot, so maybe I could use some variety.
Must have taken me two late-night hours to sort through over a hundred $30 flats on Amazon, mostly because I go for black shoes too often, yet quibble because black shoes (especially flats) can be so dull. It's not just the goth thing that makes me gravitate towards black shoes but because I always think they'll 'go with everything.'
Really, it's a cheap pair of flats! It's not a lifetime investment. They can go with a couple outfits. Or, gee, get creative & wild, & make them go with more stuff. *eyeroll* It's just shoes, not an inquisition. Pick out a damn pair of flats. I probably should have just sucked it up on the shipping fee for the first item.
But I finally settled on a subtly striped silver/black fabric flat (shown here). Which I immediately wore out to dinner with family. Reasonably comfortable, terribly cute. All that mental
sturm und drang
over some shoes. Sheesh.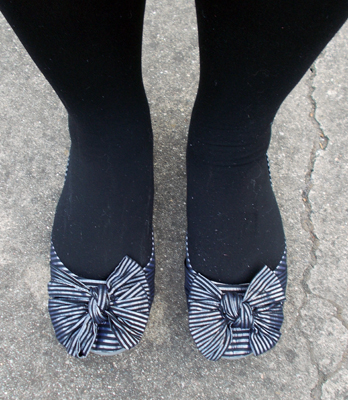 At said dinner, my in-laws gave me gift cards to Zappos & Macy's as a belated birthday gift. So again, I poked around for more shoes. Yet had the same problems. Flats or pumps? Which will I wear more? What's most practical? Black goes with everything. Maybe a color, but not that color. No gold or brass buckles. And omg, no snakeskin or lizard-skin, I can't stand the idea of putting my foot into a reptile. I'm super picky about faux suede too, some of them look *too* fake. Heel colors, gotta match, hate when they're a different shade than the shoe upper. Unless it's very intentionally done & done well, which it usually isn't. And don't get me started on the width of Mary Jane straps & where it becomes too matronly. UGH.
I think this is why I've bought more shoes offline than on: fewer choices. When I start to see EVERYTHING that's out there, I get more irritated than not!
What I'm wearing: Black sweater with ruched shoulders, H&M | Black camisole (unseen), Old Navy | Burgundy print corduroy skirt, Kohl's | Black tights, Calvin Klein | Black & silver silk striped flats, RocketDog | Black & grey skull-print scarf, gift from my husband | Silver filigree earrings, random accessory store