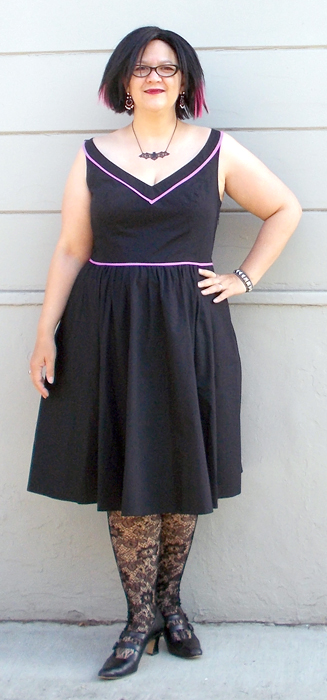 This month's "Summer in the Office" theme is the perfect opportunity to showcase this dress I got from
eShakti
. Full disclosure: The company actually offered me a freebie here & gave me a choice of products from its site, but I was not required to say anything specific about the product. I received the dress back in May & didn't get to blogging it now from a combination of my schedule & the right weather for this summer-y dress.
I've heard of eShakti long before -- in fact, one of my best friends is a big fan & always sends me links & coupons. I've pinned dresses to my
CorpGoth board
, but just hadn't bought yet. Well, I'm glad I got this dress, & I'm sure I'll buy a few on my own now! I went for the custom-fit option, which is quite nice because that means the bust, waist, & length are precisely my petite-plus size, something I struggle to find in stores.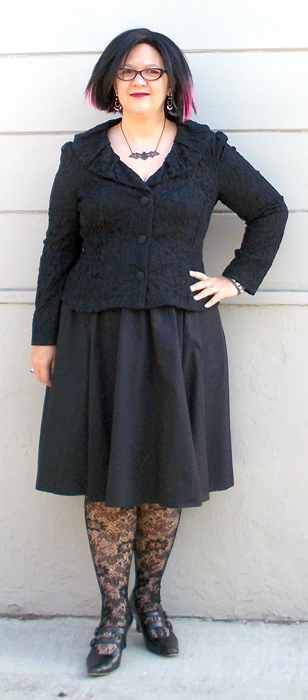 For summer, this is a classic little black dress. It's a cotton poplin fabric with a touch of stretch, very comfortable & easy to wear (& hopefully easy to care for too). Garment construction appears well done with good finishes & a smooth working zipper. I found the wide neckline of this dress quite flattering. Being a PerkyGoth, I had to go for that touch of pink. Oh & the dress has pockets in the full skirt, super convenient!
But my office is freezing in summer due to the massive air-conditioning. Thus, I have to wear jackets & sweaters every day. With this dress, I added a lacey jacket that echos the vintage style.
What I'm wearing:
Black summer dress with pink piping, eShakti | Black lace jacket, Macy's | Black lace tights, Target | Black two-strap pumps, Bandolino | Black bat necklace, Walgreens | Black with pink crystal Victorian-style earrings, random accessory store
How do you deal with summer in the office? Share your posts in the comments below!