Recently, I went across the country for a short trip to one of my company's other offices. While I've blogged some of my
costume travels
,
tropical trips
, &
shorter European trips
, I realize I haven't blogged a business trip, which really is a natural fit. So here goes...
First, my packing list. The trip had two full travel days (flying out on Tuesday, back on Friday) & two full days in the East Coast office, plus one of those nights included walking around Boston for dinner with coworkers. I wouldn't be checking a bag, & I would be bringing my company laptop. This meant packing a small carry-on roller bag & a backpack that could hold both my computer & a small purse. I'd want clothes that didn't wrinkle but were office-appropriate as well as being suitable for potentially frigid indoor AC & outdoor humidity.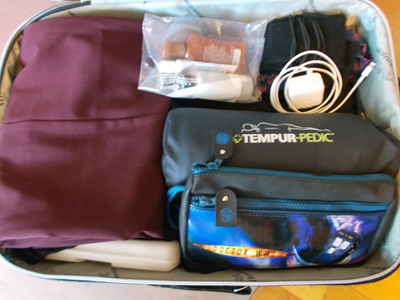 Inside my bag
Here's what I packed:
Wear on plane:
Black knit dress, Target | Black leggings, American Apparel | Black velveteen jacket, White House Black Market | Black & white stripe scarf, H&M | Black bat necklace, Walgreens | Silver skull stud earrings, random accessory store | Black flats, Aerosoles | Black socks, H&M
Packed in roller bag:
Burgundy skirt, NY & Company | Black sleeveless knit top with ruffled neckline, Michael Kors | Black & white stripe cardigan, Chadwicks | Black & grey knit dress, Coldwater Creek | Black T-shirt, Old Navy | Black elastic belt, NY & Company | Black & white T-strap flats, Nine West | Silver skull choker, random accessory store | 2 pair of tights, Calvin Klein | Undies, socks, PJs | Toiletries with liquids in ziplock baggie to take out for security check | Makeup - Nars black eye liner, lipstick, Benefit Eye Bright | Baby wipes for removing makeup | Febreeze for keeping clothes fresh | TempurPedic travel pillow | Eye shade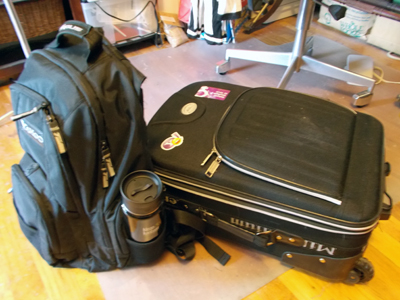 Everything I carried
Packed in backpack:
Work laptop & power cord | Camera & mini-tripod for blogging | iPad & charger | Kleen Kanteen water bottle | Snacks | Umbrella
In small black leather purse (tucked into backpack for flying):
iPhone & earbuds | Wallet | Sunglasses
The trip wasn't long enough to really require outfits that had to be super interchangeable. I only needed two workday outfits. They had to be easy to pack & in layers that would be comfortable given the possible temperature extremes. I chose sleeveless & short-sleeve tops with a sweater or jacket for flexibility, & everything was in knits or similar fabrics that wouldn't wrinkle. I packed a second pair of shoes to give my feet a break (but kept the T-straps for non-travel days so I wouldn't have to deal with tiny buckles in the security line). I ended up with plenty of room in my little suitcase -- it was tempting to pack more, just so things didn't rattle around!
The outfits turned out to be fine for the weather, at least in the office & at the dinner in Boston (I swapped the sweater for my jacket at night). However, we had an unexpected "team building" activity on the afternoon of the second day that was at an outdoor amusement area. Our VP required us to play mini-golf in the hot sun for an hour -- I don't usually mind such things, at least with friends, but in this case, we had to go back to the office afterwards for more work, & we'd just come from meetings. We were all dressed in business / business casual clothes, & the setting & temperature was more appropriate for shorts & T-shirts. Ah well, at least we got ice cream too :)
Apologies for the poor quality of the outfit photos, as the lighting in my hotel room wasn't great. Also, no pix of my traveling outfit since I had very early morning flights each day. But I hope this packing list is a useful example of how a CorpGoth can travel for business with only carry-on bags & still look a little spooky yet office-friendly.