My husband & I love to
travel
-- we've set foot on all seven continents, including Antarctica. We try to make one international trip every year or every other year. In addition, I travel occasionally for business & I often go to costume conventions & conferences throughout the year. So I'm pretty experienced at packing my gear to go.
Last week, my husband & I returned from 10 days in
Spain
, & I made a point of photographing my outfits so I could share my travel wardrobe tips here. Here's some of my packing philosophy...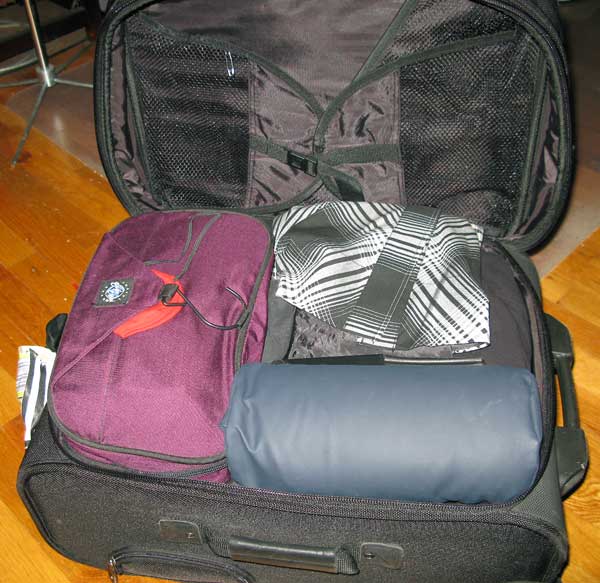 1. Check your luggage and avoid the carry-on bag hassle
I know, I know, airlines charge to check a bag, but budget that into the cost of travel. Whatever you "save" on airfare, you pay on stress & time spent in the security line & fighting for overhead bin space.
More importantly, when you only have carry-on bags, you can't pack cutlery or a corkscrew. This means you won't be able to shop at markets for fresh, delicious, & less expensive local food at your destination. Wherever I travel, I plan for picnics (even in our hotel room) made from local breads, cheeses, meats, sweets, & a bottle of wine. You'll need a pocketknife with a corkscrew, which can only be packed in checked luggage.
My suitcase measures about 21" x 15" x 8" -- it's not huge by any means, & I can easily lift it up three flights of narrow B&B stairs. It has wheels & can expand as needed. This photo shows it packed for Spain with all my clothes, toiletries, & even my
TempurPedic neck pillow
(because I get horrible neck aches from standard hotel pillows).
2. Keep a toiletries bag packed and always ready to go
I love my
Eagle Creek Wallaby
toiletries bag. It's roomy & secure, with pockets for all my bottles of hair care & skin care products, brush, comb, toothbrush, toothpaste, you name it. I keep this packed year-round, so whenever I travel, I can just grab it. All I have to do is occasionally check to see that all the bottles are topped up (& it takes a surprisingly long time to use up a 3-ounce bottle of shampoo).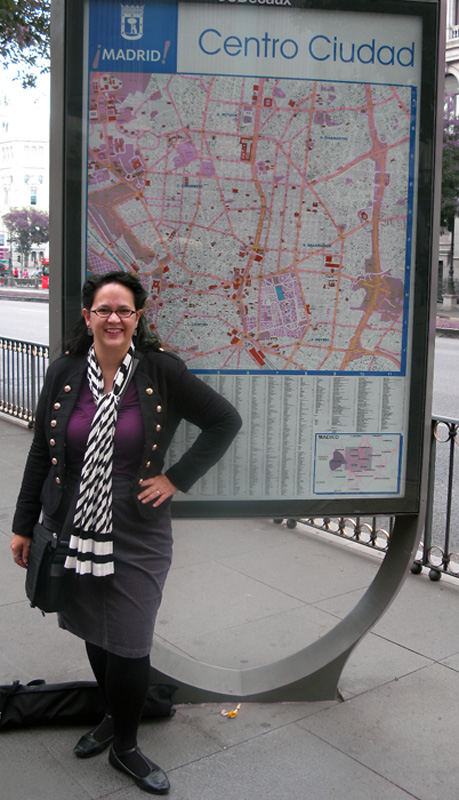 3. Plan an interchangeable wardrobe around two or three colors
While every trip will have different priorities, when I travel, I want to focus on the trip more than my wardrobe -- which is definitely different than how I think when I'm at home! On the road, I do not want to fuss with clothes; I want outfits that are simple, comfortable, & minimally stylish.
If I'm traveling for business, of course, I'll want to project a more CorpGoth image, & if I'm going to a
costume
event, then I'll pack tons of crazy costume gear. Travel to the
tropics
requires swimsuits, & travel in winter requires sweaters, coats, & boots. But in general, my travel wardrobe is a very stripped-down & basic version of my home wardrobe.
Every item I pack must be able to be mixed & matched with at least two other items I pack. This is absolutely mandatory! Ideally, every single item will go with each other. My main color is, duh, black, but then I pick one or two other colors & try to add in at least one pattern for variety. I always pack two or three pairs of shoes for a week-long trip or more -- it's more comfortable on your feet that way
4. Do laundry on the road
I pack a small bottle of liquid laundry detergent & a small bottle of Febreeze. At the end of each day, I spritz any stinky garments with the Febreeze (also good for shoes). And about every 5 days, I wash socks, tights, & undies in the hotel sink with the detergent. They usually take 24 hours to dry, so plan ahead!
What I wore in Spain and my packing list:
What I packed:
Black knit military-style jacket, Macy's
Black knit dress, Target
Black leggings, American Apparel
Grey corduroy skirt, Newport News
Black & white plaid skirt, H&M
Black jeans, Levis
Black 3/4-sleeve knit top, NY & Company
Grey pinstripe long-sleeve knit top, Old Navy
Purple short-sleeve knit top, Target
Burgundy cardigan, Chadwicks
Tall black boots, Clarks
Low black buckle boots, Aldo
Black T-strap flats, Aldo
Black & white stripey scarf, H&M
Black & white polka-dot scarf, Old Navy
A couple necklaces, earrings, & a couple flower hair pins
Sephora travel eye makeup kit & brushes & 3 lipsticks
Another good example is this
packing list
for a one-week business trip from Kasmira of What I Wore 2Day.