I haven't done one of Sal Kay's Movie Monday themes before, but why not start? I'm not a huge movie fan -- I probably see just one movie in the theaters per year and maybe watch two more recorded at home in a year. Either there's nothing new out that I want to see, or I can't make the time commitment because I'm always busy with other events (or my husband is working on weekends, so that limits movie-going).
Arwen's mourning gown
However, I do try to keep up with costume movies and fantasy movies, because those genres give me extra bang for the buck and for the time spent. Thus, my first Movie Monday post is about The Lord of the Rings trilogy, which were released from 2001 to 2003.
These were truly amazing films to me, as I have been a HUGE Tolkien fan almost since birth. My mom told me the stories of
The Hobbit
and
The Lord of the Rings
as bedtime tales when I was very little, and I started reading the books when I was in third grade. This was my first and dearest fandom, and I feel that the movies came very close to recreating the world of the books and telling the story accurately.
Arwen's Rivendell farewell gown
And being a costumer, I naturally wanted to recreate some of the film's costumes, especially the elf gowns! I'd wanted to be Arwen since I was a little girl, and I used to make up stories where she was actually part of the Fellowship -- it was like Peter Jackson was reading my mind when he wrote the movies!
I sewed two faithful movie recreation costumes and one riff on an Arwen gown (the third I haven't added back to my new costume website yet). I made Arwen's
Rivendell farewell gown
that she wears in a brief scene in
The Fellowship of the Ring
and in a flashback scene in
The Two Towers
. I also made her super-goth
mourning gown
that she wears in
The Two Towers
.
Finally, today I'm wearing a little bit of Arwen jewelry. My dear husband gave me both the Arwen ring and brooch (from
The Noble Collection
) around the time the movies came out, knowing what a huge Lord of the Rings fan I am.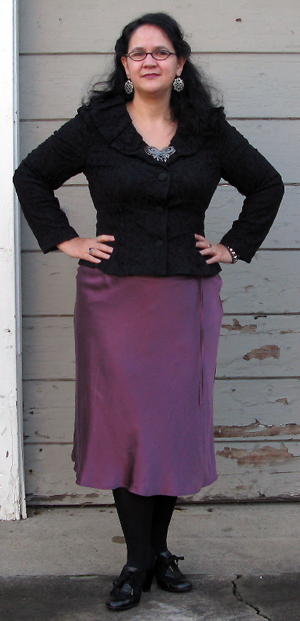 What I'm wearing:
Black lace jacket, Macy's | Black T-shirt, NY & Company | Plum satin skirt, Newport News, gift from Lisa | Black tights, Calvin Klein | Black ribbon-tie pumps, Clarks | Arwen butterfly brooch, gift from my husband | Arwen butterfly ring, gift from my husband | Silver filigree earrings, Target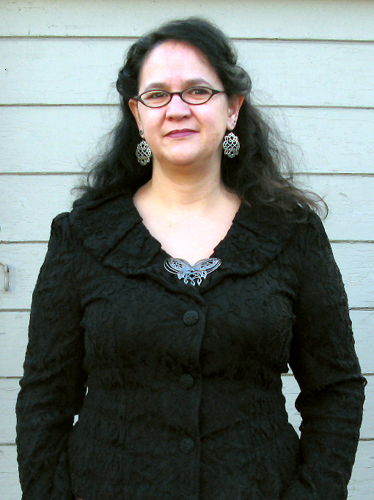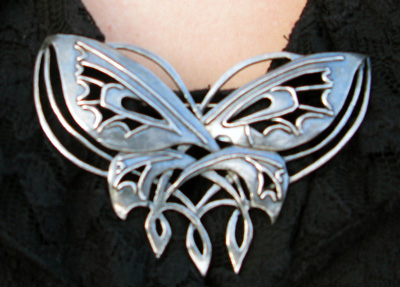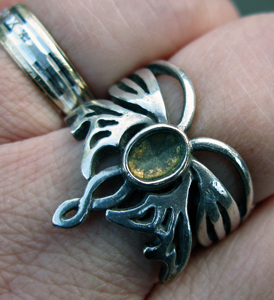 Need to get the stone replaced in this ring!