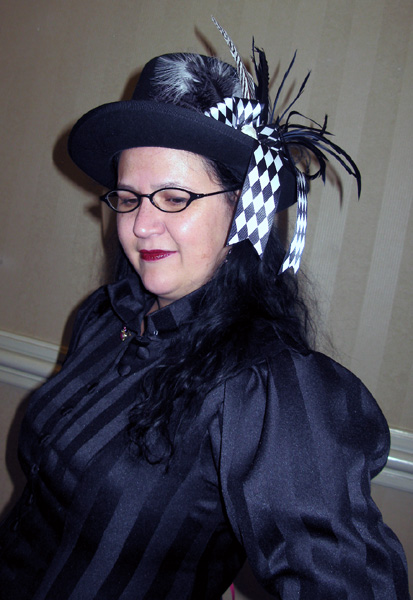 But I can't take full credit for this one -- this topper was a gift from my friend Ghislaine, who knew I love skulls & such things. Yep, that's a real vole skull on the topper. I was a little tempted to take it off & put it on a smaller hat so it looks bigger & more menacing. But not a really teeny hat. As some of my friends know, I have a rule: Your hat must be bigger than my fist or I will punch you.
Instead, I added a bunch of feathers to go with the skull. What do you think? Should it stay on this hat as-is or move?
What I'm wearing:
Black top hat with vole skull & checkered ribbon, all feathers added by me
Black tone-on-tone stripe coatdress, Kambriel
Black T-shirt, Old Navy
Black & white stripe walking skirt, River City Trading Company
Black & pink stripe tights, We Love Colors
Black ribbon-tie pumps, Clarks
Black & pink Victorianesque earrings, random accessory store
Pink crystal brooch, vintage, from my grandmother
Unfortunately, none of the full-length photos of the outfit turned out, so you only get hat shots. Ah well, that's the important bit, because this was a hat-themed post as part of Sophisticate Noir's August theme of Hats/Fascinators.
I wore this outfit on Friday at Costume College, which wasn't in August, but I knew I'd be on the road (literally -- driving from L.A. to San Jose) on August 1. So I prepped the post & auto-scheduled it to run. That's how much I liked this theme! Thanks, VictorianKitty!