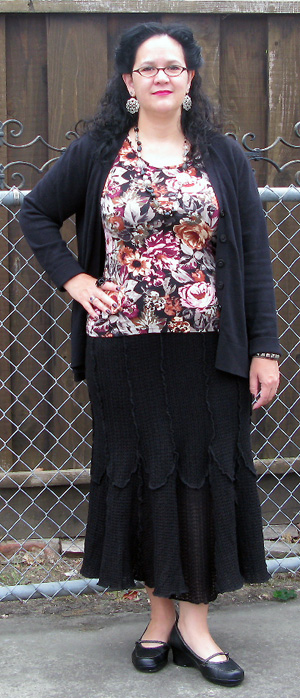 Mornings continue foggy, burning off by noon to reveal hot afternoons. This makes a cardigan a necessity. That's our California summer.
What I'm wearing:
Black cardigan, Chadwicks | Dark floral knit top, H&M | Black crochet trumpet skirt, Coldwater Creek | Black wedge pumps, Dockers | Black & silver chunky bead necklace, Target | Large silver filigree earrings, Target
I'm experimenting by wearing different types of shoes without hosiery recently. I've mentioned on this blog how I find that a bit squicky. But this summer, I ran out of other sandal options, plus I'm taking the bus to work more often, thus I need to wear walkable shoes. And yet I don't always want to wear socks or tights in summer.
I've been kicking my shoes off under my desk at work, which I'm sure would squick out my coworkers. Luckily, the woman I share a cubicle with is on vacation this week :-)
Oh, Sarah came over last night, and we painted our nails while drinking beer. She has some great nail colors, like this dark purple. I'd love to paint my nail more often, but I'm lazy (as you can probably tell from the poor quality of this manicure!).