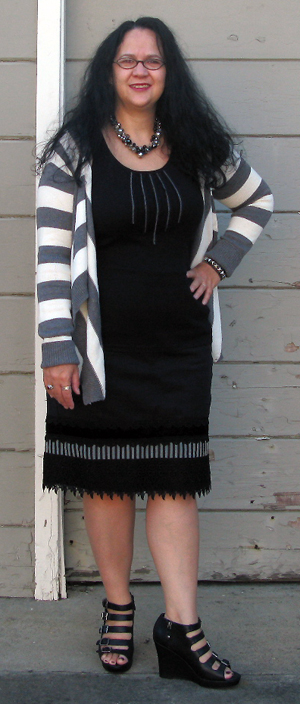 I can't believe it, but this is the 100th outfit I've blogged here on This Is CorpGoth!!!
Last night, after posting, I looked at the tally of "what I'm wearing today" tags & saw it was at 91. However, I knew there were a few posts -- such as from
traveling
-- where I blogged a couple day's worth of outfits all in one post. So I went thru & tallied up the outfits. In addition to travel, there were several days where I posted two outfits, probably just from scheduling problems. Counting it up, that's when I realized I was at 99 outfits. OMG.
Honestly, I wasn't sure if I'd make it very far when I started blogging, & I continue to think "why am I doing this? how am I going to continue?" Life is busy, & I'm not sure what I get out of this other than vanity. But it doesn't hurt anyone & it keeps me off the streets, hee hee.
What I'm wearing:
Black skirt with lace & stripe trim added by me, Gap, thrifted, worn on my
first outfit post
Black tanktop with silver trim, Old Navy
Grey & white stripe sweater, Forever 21
Black buckled wedge sandals, Kohl's
Black, pearl, & silver chunky bead necklace, Aldo's Accessories
Pewter square dangle earrings, local artist
Considering that I dress up in something of a vacuum at work (the land of T-shirts & jeans), it's nice to have someone in addition to my husband say "nice outfit!" once in a while. Thank you, each & every one of you, who has read, followed, & commented!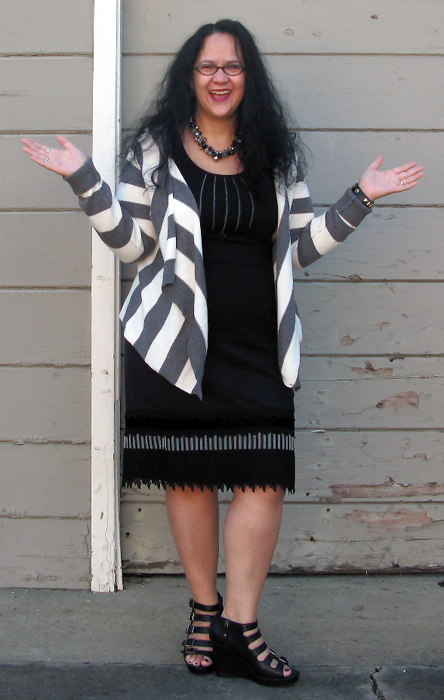 Can't believe I made it this far!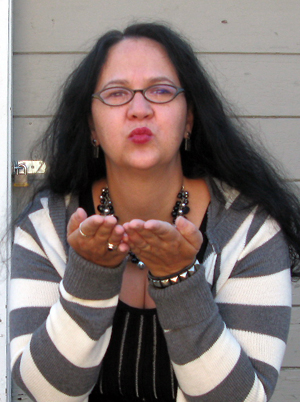 Blowing a virtual kiss to everyone who's left a nice comment!