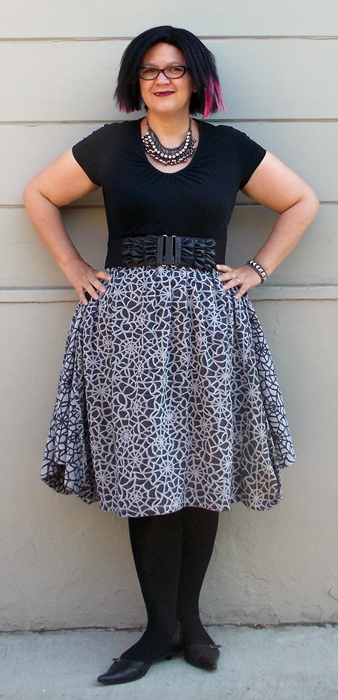 Because I sew big, crazy
historical costumes
, people often think I sew my own clothing. Sure, I can, but I don't like to. I have in the past, but these days, I prefer to save my minimal sewing time, energy, & budget for only those costumes. That said, I have some tips for those who want to get started sewing their own gothic clothes or just adding goth details to clothing.
Never sewn a stitch? Instructables to the rescue. Start with this step-by-step
how to sew
tutorial. This page guides you through the basics of hand-sewing. CraftStylish also has a useful primer to get to
know your hand-sewing needles
.
Sewing Projects to Get You Started
With basic sewing skills, you can start gothing up your wardrobe making over existing garments, either old things in your wardrobe or garments you find at thrift stores. Some projects to star with:
Some of these updates will be easier with a sewing machine. If you've never bought one, read through this detailed
sewing machine shopper's guide
written by a very experienced friend of mine. That should help you ask the right questions at the store.
If you want to learn to sew clothes from scratch,
SewMarm
's YouTube channel has some handy tips on everything from inserting the bobbin on a sewing machine to making a 1920s-inspired dress in one hour. The
ThreadBanger
YouTube channel has lots of fun & relatively easy tutorials for clothes, costumes, & craft projects to inspire you.
Sewing Goth Clothes on a Budget
Sewing doesn't require a huge, up-front investment, although it's easy to go nuts at a fabric store. One way to save your budget is by looking for fabric at thrift-stores. I love using sheets, tablecloths, and curtains as material because you get a huge piece of great yardage on the cheap. You may find lush, heavy fabrics this way.
At the fabric store, always wait for sales. And make sure to go to every fabric store in your area and get on their mailing list. Really, this is the number one way to get fancy fabric less expensively. You'll get flyers in the mail or get emails notifying you of sales early, and usually you'll get coupons. Some stores even have special 'early bird' or 'preferred customer' sales. For example,
Jo-Ann Fabrics
(in the U.S.) sends out sale coupons by print & email most every week for 40% off. Local, non-chain stores may also have sale lists & coupons, so don't ignore them.
Likewise, stores frequently put commercial patterns on sale for 99 cents each (especially at Jo-Anns). That's when you buy patterns! Look through the costume sections for ruffled blouses & corseted garments, especially if those styles aren't currently "in" & that's what you want to sew.
Basic garment shapes like straight or full skirts, simple dresses, tunics, and shirts can be made in exotic fabrics like velvet and silk or in Halloween-print cottons (those printed quilting cottons are super easy to sew and very durable to wear). Or make them in dark colors and add fancy trims like lace, velvet ribbons, and vintage buttons. Just a tiny bit of design can go a long way to creating a custom wardrobe. Search thrift stores,
Michaels
, eBay, and Etsy for crafty and vintage supplies to jazz up your garments.
Give it a shot, and share your project ideas in the comments!
What I'm wearing:
Black T-shirt, Old Navy | Black & white spiderweb-print skirt, made by me from a Halloween tablecloth | Black elastic belt, NY & Company | Black tights, Calvin Klein | Black kitten-heel pumps, Aldo | Silver, black, & rhinestone choker, random accessory store | Silver hoop earrings, random accessory store