Thanks to my super-awesome pal, Sarah (whose blog
Yet Another Fashion Blog
you really should check out), I have documentation of a few casual outfits. Because when we hang out together, she's the one with enough foresight to bring a camera, among other things.
So reverse chronologically...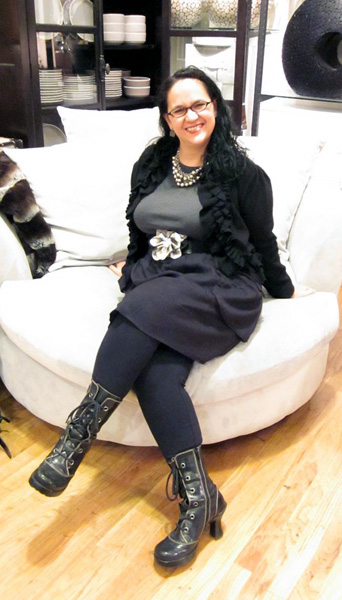 Mmm ... circular chair.
Yesterday, we met at the mall after I was done working from home. After I bought shoes at the Clarks store, we walked across the street to the other mall for happy-hour cocktails & a snack.
Here, we're goofing around in Z Gallerie on the wild furniture amongst the wacky art. Hopefully the pix I took of Sarah will turn out because she was wearing a fabulous little outfit featuring some really spiffy tights.
What I'm wearing:
Black wool ruffled bolero sweater, Kohl's
Black & grey pinstripe long-sleeve T-shirt, Old Navy
Black linen skirt with huge pockets, H&M
Black leggings with lace insets on the side, NY & Co.
Black elastic belt with large silver flower, NY & Co.
Black spool-heel boots, Target
Chunky silver bead necklace, Target
Raisin Rage lipstick, Revlon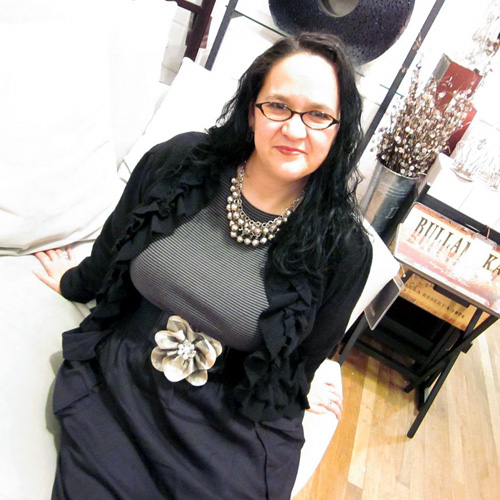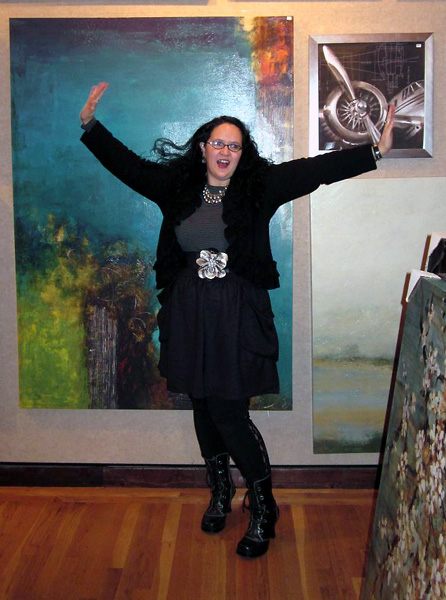 Art is fun!
Last Friday, Sarah & I went to Rabbit's Foot Meadery, a tiny little place that serves amazingly good ales, meads, & ciders. It's run by SCA folks & is quite a regular Friday-night hangout, so we knew lots of friends would be there. Photo on top I took at home before leaving (forgot that was on my camera!) & Sarah took the photos below at the Meadery.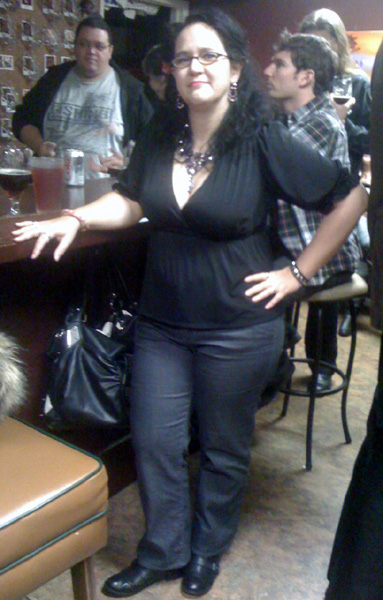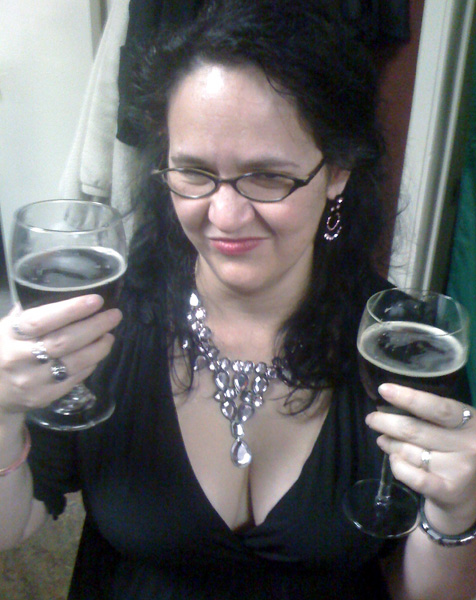 This is my Exclusive Bitch face, powered by two beers.
What I'm wearing:
Black peasant top, Macy's
Dark grey jeans, Calvin Klein
Pale pink glass bib necklace, Forever 21
Black & pink Victorian-esque dangly earrings, random accessory store
Dark cherry lipstick, Sephora
Pink flower hair clip, Forever 21